The Nature Explore Classroom at
The Friendship School
The Friendship School is a magnet school for three, four, and five year-old children who reside in New London or Waterford Connecticut.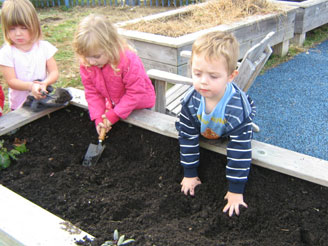 The addition of a Nature Explore Classroom was a perfect fit for this model urban-suburban school.
Opened in a new building on the shoreline on August 31, 2005, this unique school serves over 520 children. A large number of trees have been planted to beautify the classroom and to present a variety for the children to observe, identify and enjoy. Plantings include trees such as birch, Japanese lilac and evergreen in addition to butterfly bushes, pear and fig trees. Grasses and small evergreens in planters are used as area dividers as well as raised bed planters containing vegetables, herbs and flowers. Sunflowers are planted each spring along the fences.
A wooden pergola was built in the classroom as an Eagle Scout project to provide much needed shade and as a growing structure for clematis and grapes. A gazebo, a gift from a local foundation, provides the children with a place for imaginative play and for relaxing and browsing books about nature.
The Friendship School children love to build with blocks, so Staff members brought in fireplace sized logs and tree cookies for the children to build with. These low cost items provide students with many chances to strengthen visual-spatial, mathematical and abstract thinking and allow them a chance to experiment in new ways.
A school newsletter shares information about the Nature Explore Classroom with parents and invites them to enjoy the space with their children. Invitations to use the space will also be extended to the Friendship Family Organization and also to a Mom's Club that meets at the school every Monday morning.

Address
24 Rope Ferry Road
Waterford, CT 06385
Classroom Website