The Nature Explore Classroom at
The Fun Learning Daycare
This business was created during a global pandemic by one woman, indpependently. Since then The Fun Learning Daycare has strived to create an enviroment where children can grow and learn through nature.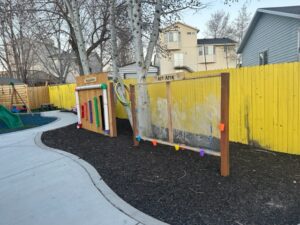 It is important to give children the chance to explore nature and participate in nature activities to grow, learn, and thrive.
We as a business have included various outdoor activities. For example our music activities, plant activites, climbing and large motor growth areas. One thing inlcuded in the classroon that the children enjoy greatly is our sand play area, this gives them a chance for free play while supervised and while experiencing nature.
Address
5784 S. Far Vista Drive
Salt Lake City, UT 84118