The Goddard School
The Wolf Room loves the outdoor classroom! Whether we are out there playing and doing our own explorations or working in teams for a scavenger hunt, this is one of the daily highlights! We especially love the marker board, dump trucks, and all the creatures we see outdoors. Sometimes, as a special treat, we get to go out and have our afternoon snack before playtime.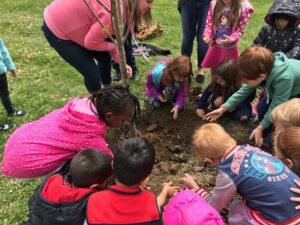 Of all the experiences the Wolf Room has had in the warmer months in the outdoor classroom, our favorite experience thus far would have to be our utilization of the space for our Reduce, Reuse, and Recycle study! We don't spend much time thinking about trash and garbage. We might give the problem some thought when our community needs a new landfill, a crisis about waste arises, or litter gets out of control. But then we often forget about the ever-present challenge of dealing with trash and garbage. Studying reduce, reuse, and recycle trash and garbage was engaging for us because we are familiar with and curious about the topic.
We started out by spontaneously cleaning up any trash we might have seen in the side yard. If you thought that was a blast… check out this picture of us in the outdoor classroom burying a piece of organic compost with our teacher!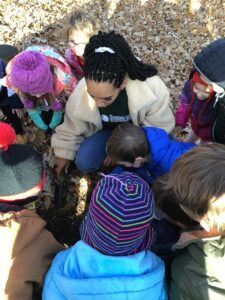 We marked our spot next to the third tree stump and covered it with leaves to mark our spot! Later in our study, we went to dig it up and investigate when talking about composting! The outdoor classroom is at the top of the Wolf Room list for favorite learning environments! It is an essential learning tool for our classroom. The opportunities are endless when you love to use your imagination – like us!