The Goddard School
Welcome to The Goddard School of West Carmel where we truly believe in, and work hard every day to create, a program that encourages diversity, community, and inclusivity for our students and families! While our school is unique in many ways, we feel our Nature Explore Classroom gives us some truly special opportunities.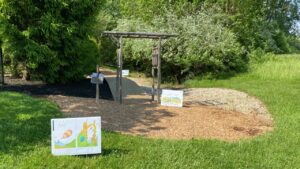 Our teachers, students, and families enjoy using this beautiful space for structured daily learning activities, free play, seasonal events, and more. We are so grateful to have a space where we can enhance our learning while exploring nature!
This year, one of our most exciting activities was inviting some of our students and their families to help us learn more about Hanukkah! Visitors traveled to each classroom sharing traditions and stories while helping us create a special Hanukkah craft. Following this, our Wolf classroom had the wonderful idea of expanding their learning to the Nature Explore Classroom. Once there, they shared some of the interesting facts they had learned from our guests and worked together to decorate a Menorah. They gathered a variety of nature items from the classroom and placed them on the Menorah. They enjoyed comparing the size, color, texture, and type of nature items collected. To conclude the activity, they shared which item found they were most proud of and some of the holiday traditions celebrated in their own homes.
As this year ends, we think back on all the fun our Nature Explore Classroom has given us the opportunity to experience. We enjoyed a Dr. Seuss story walk for Graduation, our "Not So Spooky Trail" during this year's Fall Festival, picnics, gardening, and simply playing and learning with friends, just to name a few. We can't wait to show you all the fun we have, the new things we learn, and the changes that take place in 2023!