The Nature Explore Classroom at
The Mays School
Our outdoor classroom was born out of a need for children in an urban setting to be able to experience natural materials in an intimate, safe environment. The Reggio Emilia Approach, on which our teaching philosophy is based, calls for child-led exploration of their own interests, which requires classrooms designed with open exploration in mind. The outdoor classroom has been set up to encourage exploration, and our teaching staff do an incredible job keeping the exploration items and materials new and fresh.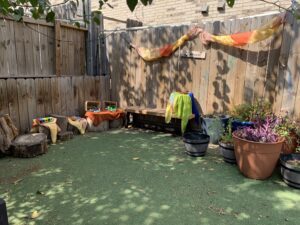 The materials in our outdoor classroom change seasonally, weekly, and along with changes in our students' interest topics. We have had great success in students using the outdoor classroom in their own research; topics such as horticulture and entomology that are discussed in their classrooms can often be researched and experienced in the outdoor classroom.
In keeping with our philosophy, parent participation and volunteering has been critical to building and maintaining our outdoor classroom. Throughout the year, our families donate their time, skills, and effort in helping us with new projects and refreshing plants, materials, and toys. Parent participation also allows our families to better "own" their school, and truly be stakeholders in their children's learning.
The outdoor classroom has led to exceptional interest from our students in nature exploration. We have been able to foster this exploration through purchases for the classroom directed by our teachers, consistent prompts to our families for at-home exploration, and field trips to local parks and nature centers that focus on environmental studies. We have been excited to hear from the majority of graduated families that this interest continues into grade school.
Address
6720 Chimney Rock Rd
Houston, TX 77081