The Nature Explore Classroom at
Campus Kids Children's Learning Center
Through the years that we have had our nature playgrounds, we have seen many changes. We began with a simple natural space with different surfaces; grass, dirt, rocks and gardens. Two years ago we began designing the outdoor classrooms. We have been creating new spaces out of the old and re-purposing materials according to the interests of the children.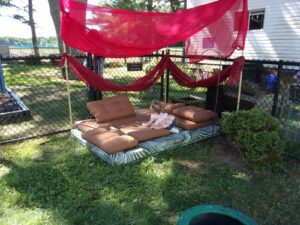 When children were interested in climbing, we moved the tires that were used to create a cozy space, replaced them with a wooden bench, and used the tires for climbing. It is wonderful to see how the children use their own ideas and brainstorm with the teachers or each other to see their ideas come to fruition.
Our children inquire about the outside world and then will research this information in books, it is fascinating to watch and inspires us to do more for them. The transformation has been enlightening. We are grateful to be able to provide this area to enhance the education of our young children and encourage a lifelong love of the outdoors.