The Nature Explore Classroom at
The Parish School-Margaret Noecker Nature Center
Little Acorn Park
Since 1983, The Parish School has educated children ages 2-12 who have communication delays and learning differences. This nationally recognized special needs school in Houston provides an education for the entire family within the environment of a nurturing and safe 17-acre campus.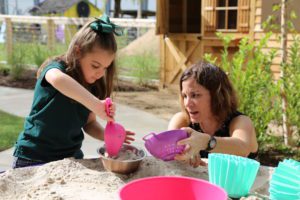 In 2013, the school's beloved, long-time Head of School, Margaret Noecker, suddenly passed away. Margaret believed children could learn everything they needed to know through nature. Therefore, her husband and daughter established a nature fund in her name, and the Margaret Noecker Nature Center (MNNC) was formed in August 2013 to oversee it.
The MNNC Council hired the Natural Learning Initiative to develop a conceptual design for the campus that fully integrates nature-based learning into Parish life. After attending the Nature Explore Leadership Conference and visiting Houston's certified classrooms, the council hired landscape design firm TBG Partners to design its first three phases: Little Acorn Park, Oak Creek Exploration Zone and Margaret's Nature Hub.
Phase 1 of MNNC's initiatives, Little Acorn Park, would transform an underutilized and unattractive, fixed equipment toddler playground. Fundraising began in earnest utilizing grants, events on campus, and long-term supporters of the school.
Little Acorn Park opened for learning and play at the start of the 2019-20 school year. The Parish School was designed with a look and feel of a Texas Hill Country summer camp, and it incorporates the same aesthetic. Children are greeted by a welcoming cedar arbor covered in passion vine, which attracts local butterflies. A nearby cedar teepee allows for building and pretend play. A sandpit, water pump and mud kitchen are in areas shaded from the hot, humid Houston weather. Blake's Bike Barn and winding pathways are a hit with speed racers, who pull bikes and wagons up the "big hill," barreling down just because they can! A mini stone amphitheater serves as a playhouse and gathering spot for reading. Located under the shade of giant sycamore trees, wooden decks are popular spaces for art and creative play. Students can often be found barefoot and wet as they run through sensory plantings. Fall and winter bring giant leaves for loose parts play, along with acorns, seeds and small gardens for planting.
Little Acorn Park has been a huge success for The Parish School's special learners. Teachers have observed more robust play, less conflict, expanded vocabulary, and increased wonder. They're digging into Little Acorn Park like a hive of worker bees, proving just how powerful nature learning can be!
The next phase of the MNNC, Oak Creek Exploration Zone, is fully funded and scheduled to be built in 2021. This beautiful patch of campus will transform the school's preschool playground into the second outdoor classroom.
The MNNC Council is grateful to its supporters and the Parish Board of Trustees for their belief in how natural classrooms can benefit students and staff. Through the MNNC's progress, The Parish School is creating an improved, campus-wide environment that engages students in direct relationship with nature that is developmentally transformative.

Address
11001 Hammerly Blvd.
Houston Tx. 77043