The Pegasus School
The Outdoor Classroom at Pegasus has been a hugely important place for our youngest students this year, dealing with Covid. It has provided them with a rich opportunity for nature-based play, and to let go of the stress that even these youngest learners are feeling this year.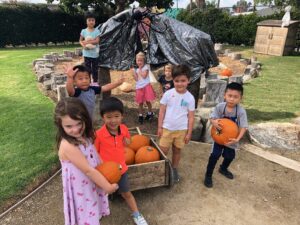 The students have been in-person the entire year, but socially distanced of course. Our Outdoor Classroom setup has had to change, in order to accommodate health and safety standards, but the heart of the space and activities available to the children have been priceless. They are so excited at even the smallest opportunities for play this year.
We have sectioned our Outdoor Classroom into 3 zones, color-coordinated each day, and rotated, so the children get to experience all the yard has to offer, without being stuck in one zone all year. In Zone 1, they are able to care for our raised beds, water, and eat from them, swing on the spider swing and swingset, play in the sandbox, and the butterfly garden. In Zone 2, they have access to the mud pit, including a new mud kitchen, and enjoy the messy materials area, slide, tree swing, and stage area. In Zone 3, we've improved our tower structure with an Eagle Scout project that turned it into a ship, with steering wheels, telescopes, and much-needed shade! The students have created a second mud pit near the tower, where we wouldn't normally allow them to dig, but given the circumstances, this year, saying "yes" is our motto! They also get to enjoy the water pump and stream in zone 3 as well as additional running space for large motor activities and more grow beds full of delicious strawberries!
One of our teachers commented, that by creating the zones, she's noticed the students are playing in areas that they may not normally gravitate to, thereby enjoying all of the spaces and activities our outdoor classroom has to offer. The Outdoor Classroom has been truly appreciated by all, even more this year, and the children are so excited just to be at school and be able to play in this glorious, nature-filled environment!