The People/Plant Connection

Stories: Our garden is open to the public and many parents take their children to visit the garden. One grandparent takes her three-year-old grandson to visit the garden. He likes to pick the cherry tomatoes in the pizza garden and eat them.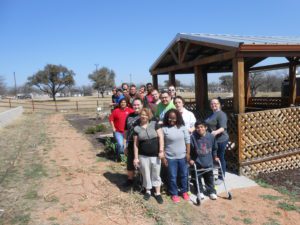 The year before last, the members of the Youth Garden Club planted onion bulbs in the pizza garden in the fall. When spring came, they harvested them and we sent paper bags of onions home with the members for their families. Most of them were going to give them to their parents or grandparents. One little girl said she was going to sell hers.
Our volunteers who maintain the garden are from our horticulture program at the Men's Correctional Facility. They are recovering from drug and alcohol addiction. The men are able to work in the garden to earn community service hours. It helps them feel like they are contributing to society and working on a good project while they are there. Once they get a weekend pass, many of them bring their families to the garden to show off their accomplishments. We encourage them to build a garden when they return home.