The People/Plant Connection

The People/Plant connection officially began in January of 2010. We have introduced the Sprout's program for children 5 yr & up.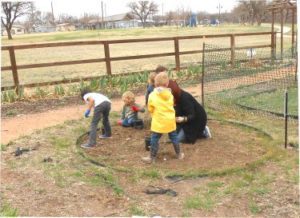 They are working in the vegetable gardens to clean out, plant and water vegetables. We will be introducing another new program called The "Pollinator" garden program for older youth. They will be developing hummingbird and butterfly gardens. We also offer a "Kids in the Garden" session on Saturday mornings. The children will be working in a different place each time they meet.
We want our programs to get children and youth involved in the work to create each garden area. They will learn about using tools and safety in the garden. While watering from our rain tanks, the young gardeners will learn about water conservation which is important in our location. Covid delayed our finishing the garden, but we are back on track and hope to get everything planted this year.