The People/Plant Connection

The People/Plant connection officially began in January of 2010. We are celebrating our 10th Anniversary this year and we are introducing new programs for children and families. The Sprout's program is for children 4 yr & up. We will be introducing another new program called Roots & Shoots Family Gardening Program. This is for families to learn how to start a garden and raise their own vegetables. Each program has activities for the children to take home.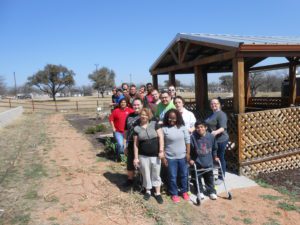 We are also sponsoring a lecture series to coordinate with special occasions that relate to gardening and nature. These lectures will be given by people who are professionals in their fields. Recycling, Texas Arbor Day in November and Feeding the birds in December. While our programs are on hold at this time, we hope to be back up and running soon.
We won a grant to finish the Children's Adventure Garden. We are planning a grand opening sometime this year to go along with our 10th Anniversary which will include a ribbon-cutting and the garden will be officially open to everyone.