The Tatnall School
The Tatnall Outdoor Classroom continues to be a place of joy, wonder, and inspiration for all children day after day, week after week. With each changing season, the space is reimagined. As teachers, we continue to be amazed at how the children have embraced the outdoor space, creating structures, exploring, observing, imagining, and making discoveries, using items found in nature, all while learning.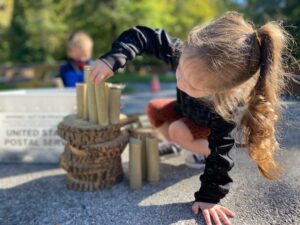 Over the past several years, we have held special school events in the Outdoor Classroom; Fall and Spring Open Houses, our Busy Bees community outreach program, and our first ever outdoor Tree Trim event in December for families, with much success! On Earth Day, the children partnered with the Upper School students to plant a pollinator garden for our on-campus apiary.
Looking forward: We hope to add a large musical instrument to our Melody Meadow. We want to add triangular shades for our outdoor deck classroom and we intend to add a standing outdoor table to our Art Studio.