Tina's Treasurehouse
We became a Nature Explore classroom in 2020. I began my classroom by contacting my local tree service who donated our first hollow log. I was able to get logs to add for my gathering area too. We have since replaced the large hollow log with two more, one big one and one small one. The children love to climb on top and crawl through both logs. They will jump off all the logs, walking and jumping from one log to the next in our gathering area.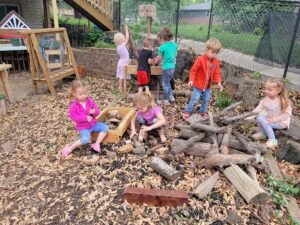 We have eliminated most all our plastic climbing apparatuses except the little toddler climber so that we have more natural materials. We have a new wooden one built by Papa Craig that is low enough to prevent serious injuries from falls. We eventually plan to build a smaller one for young toddlers to climb and slide down.
In our building area, we have added a table to build on with the three different wood blocks and small bricks. We have a storage area to keep the blocks and bricks and will be updating it next spring. The children love our sorting table that has small pinecones, stones, nuts, and now seeds they have collected from the area. They will sort them and build things with them. Another thing we have added is our new workstation next to our mud table and new stove. The workstation is a great way for the children to use the numerous kitchen pots, bowls, and spoons with the wooden foods to create "meals" with the sand, dirt, and water pump and serve on the new picnic bench in the same area.
Our art area has a large wooden table and easel to create art using the many art materials stored under our wooden storage table Papa Craig has also built for us. We have a new larger chalk board in our art area for those who want to draw and write along with our journals and pencils we keep in the area too. The children have access to each of these materials when they wish to journal and draw or paint. Our sand and dirt box not only has seating, but also now has sides built on them to prevent little ones from falling out. It also makes it easier to cover at the end of the day. Our music area continues to be a fun place to create music with the pans, hanging spoons, boom whackers, xylophone, chimes, and scarves and stage to dance.
This year we were excited to be able to add a large garden to grow vegetables. The children took part in planting, tending, and picking vegetables from our garden. They relished in the experience of tasting them right out of the garden and including them with our meals. We have added an apple tree in our garden so that some day we will be able to pick our own apples as we do with our peaches. Our outdoor classroom continues to be a respite from not only COVID, but flu, cold, and other illnesses. Children here are healthier and happier when they spend time outdoors. They love to do circle time, art, games, and picnics in our outdoor classroom. Being outdoors help build our immune system with the fresh air and sun that seem to energize our T cells that help fight infection.