The Nature Explore Classroom at
Tina's Treasurehouse
I have a large open yard for my playground. I wanted to create an outdoor classroom that would be a rich learning environment for year-round learning.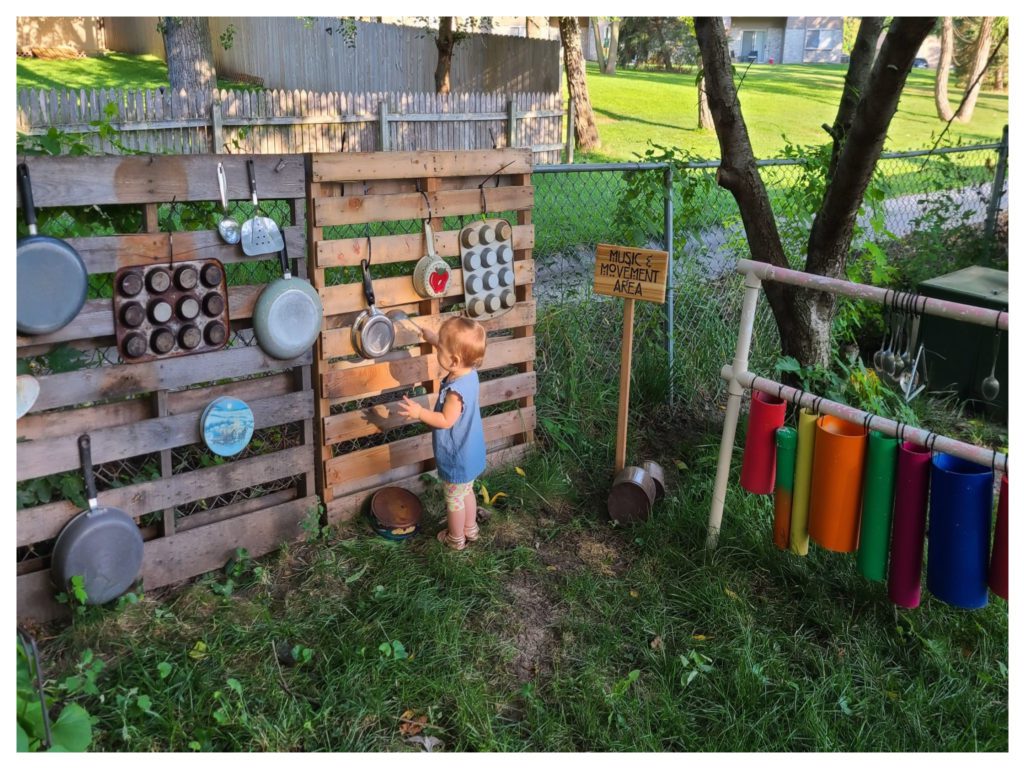 I started by getting the help of our local tree service who donate a large hollow log for our crawling area. A client was able to haul the log to our playground. We added some large logs for our gathering area, small logs, and tree cookies for our messy material area. We added another hollow log later and two climbers. We now have a wooden bridge with a shelf attached and a small wood table where we keep binoculars, bug viewers, magnifying glasses, and journals with pencils for writing.
We added an art area containing a pallet with plexiglass, a sink, and a large wooden table with tiles. The children love to use the table for painting, coloring, gathering our pinecones, seeds, and acorns as they count or sort them. Our music area consists of two large pallets with a variety of pots and pans attached, a ballet bar with different size PVC pipes on the bottom and metal spoons and small windchimes hung from the top, boom whackers hanging on another post and a xylophone on the bench. There are some large pans on the ground to use as drums.
My husband built a stage so the children can use the scarves to dance. There is a building area with wood blocks and small bricks that are stored in crates under the table for easy access and storage. There is a sandbox and dirt box right next to each other. The dirt box has a digger to sit on when digging and planting tools children can use to dig. On the cement in the back, we have our riding toys. Next to that, there is a flower garden with perennials and a vegetable garden that children help water and pick the vegetables. There is a pathway into the garden with a small wooden bench to sit and enjoy the view. There is a peach tree behind the music areas that the children like to taste the peaches when they grow and collect seeds from peaches that have been eaten by squirrels. Next to the dirt box, there is a water table that is opened on nice days during warmer weather.
Since making the changes to our outdoor classroom, the children are more well behaved and love to go outside and explore. They get excited when they find bugs and worms and can record it in their journal. They also like to collect the peach seeds, acorns, and rocks in the art area. The change has been extremely rewarding as I watch the children explore nature around them. I love it when I can get families over their fear of the outdoors and the fear of allowing their child to jump, climb, and explore the different areas of nature.

Address
4800 Duxhall Drive
Lincoln, NE