The Nature Explore Classroom at
Tommie Lane Preschool
The outdoor classroom at Tommie Lane Preschool began with one thought…to rid the preschool of plastic materials and implement a more garden like setting.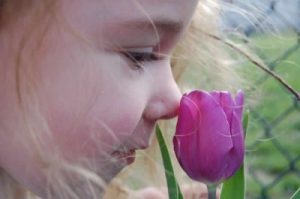 With this goal in mind, the plastic playhouse was recycled and more natural materials were brought into the space. Neighbors donated fallen trees while giant sunflowers and a butterfly garden were planted to attract birds and butterflies. A splattering of flowers throughout the classroom adds color and natural beauty while the tall sunflowers provide a secret garden where children feel as if they are hiding. Plant gifts from Teacher Appreciation Week were placed in the garden and a raised garden bed was set on top of a hard, rocky surface that was proving to be a difficult area to incorporate into the outdoor classroom.
Quiet areas have been separated from loud areas in this open concept plan. Pea gravel, pavers, grass, decking, sand and gardens were used to delineate areas. Bright scarves sway in the wind, catching the eye and framing the Move 'N Groove Area. Creativity sparks in the Nature Art Area with materials such as sea shells, pine cones, pods, bark, branches and river rock used to create a multitude of masterpieces.
Signs were designed using yellow pine scrap wood, stained and stenciled. A local wood-worker created an old country church plaque for the Gathering Area and one grandfather donated handmade blocks, which are a favorite addition to the Loose Parts Area.
A rain barrel, which is very easy for the children to manipulate, is used to water the gardens. The school saves all the fruit and vegetable scraps and even used paper towels, to feed the rolling compost bin. Children enjoy watching the materials decompose and taking turns rotating the barrel while making rich soil for the gardens. Children are always busy, gathering pine cones from the patch of woods behind the school, to add to the Nature Art Area.
Tommie Lane Preschool shares videos and pictures of their children playing, creating, learning and enjoying the outdoor classroom through Facebook. Detailed descriptions explain what the children are doing and learning.
I believe children learn best through play and FUN which involves exploring, creating and choosing activities. Expect your child to get dirty!
Karen Grandfield, owner/director

Address
754 Tommie Lane
Soddy Daisy, TN 37379
Classroom website