The Nature Explore Classroom at
Tony Reyes Bilingual Child Development Center
Western Avenue
The Tony Reyes Bilingual Child Development (TRBCDC) is a 3-STAR, NAEYC accredited program of the Latino Community Development Agency (LCDA), and is offered in two different sites in south Oklahoma City. Our program is highly regarded by parents, educators and child licensing agencies.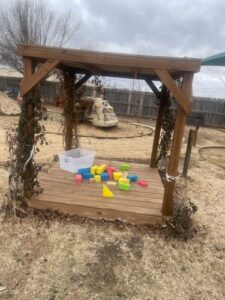 Dr. Lori Beasley, professor of child development at the University of Central Oklahoma states: "Tony Reyes CDC is a model program and provides close mentorship of practicum students that expands their idea and vision of what early childhood education is."
Our program focuses on providing children and their parents with a safe and caring environment, led by an excellent staff team, where children can learn as much as possible. Children come from families with low socio-economic status for whom the traditional consequences of poverty are compounded by additional challenges prevalent in immigrant communities such as legal status, lack of information, distrust and ignorance about service opportunities.
Sandra Puebla, a parent of one of our students states: "Because the Center is a child development program rather than a daycare, it views learning as something that is constantly and continuously happening, views children as smart and capable, and the teachers consciously create a safe space for the kids to learn and thrive."
TRBCDC was established in June 30, 1997, in memory of Antonio "Tony" C. Reyes, a dedicated child advocate who provided his time to mentoring children at LCDA. Tony wanted every child to have the same opportunity affluent children had, but in a bilingual setting that was culturally and linguistically age-appropriate for them. Sadly, Mr. Reyes was killed in the 1995 Murrah Federal Building bombing in Oklahoma City. His niece, Nina Gonzales, had the vision for what became the Tony Reyes Bilingual Child Development Center and served as its first director.
We believe that a Nature Explore outdoor classroom program will enhance children's learning experience, and we are appreciative of the necessary financial support we received from the E.L. and Thelma Gaylord Foundation and Lopez Foods for their financial donations to this effort, and additional support received from Sunbeam Family Services and the Oklahoma State Department of Human Services.
Many of the children we serve have limited experiences with nature because of their living environment. They are from low-income families, where parents often work multiple low-wage jobs to make ends meet. We believe that by teaching children about the natural world at an early age they will learn to take care of, advocate for, and have a deep appreciation for nature. We also believe that children need to experience outdoor play in a setting that is guided by a proven curriculum, so that play is that much more meaningful.

Address
5716 S Western Ave.
Oklahoma City, OK 73109