Trees Indiana
Since its opening, the classroom has been host to over 4,000 youth. The classroom is designed for elementary age kids; however, this space has been utilized for a variety of purposes such as salamander studies conducted by PFW college students. The butterfly garden was an Eagle Scout project. Trees Indiana uses the classroom year-round for programming, tree plantings, and as a field trip site.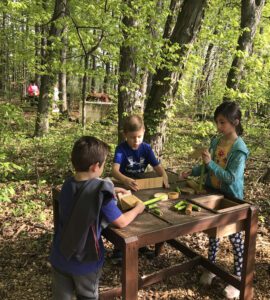 The pandemic has brought heightened awareness of the healing power of nature – and its critical role in children's healthy development. To that end, Trees Indiana is planning a "refresh" to the classroom in 2022. Fundraising efforts are underway to add equipment and materials augmenting activity areas.
Sponsored by Indiana's Children and Nature Network, Trees Indiana will be hosting a Nature Play Day at the classroom in June.
We've witnessed, first-hand, that learning, playing, and just being in nature sparks curiosity, creativity, and social connections. Spending even a short amount of time outdoors in green spaces helps children focus for learning and encourages physical activity. And as the pandemic continues, outdoor classrooms are safer for in-person learning – and beneficial for children's mental health. This event will be marketed to families in the region and is open to everyone.