Trees Indiana
If anything, 2020 has reminded us of this universal truth: you can't control what happens but you can control how you respond. Finding nature is always open.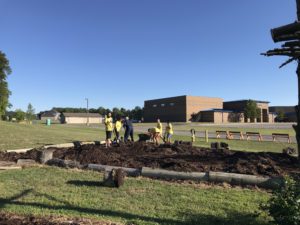 Families were invited to sign-up to "reserve the woods." This offered an outdoor respite for parents and kids to enjoy self-guided activities without constraints of masks or social distancing. The classroom is always open to the public during non-school hours.
The classroom got a fresh look, hosting a volunteer maintenance event as part of the United Way Day of Caring. Old mulch was dug up on the trails, replaced with 30 yards of fresh mulch. Tables, benches and the music area stage were given a fresh coat of stain. Youth volunteers helped replace steps in the climbing area.
Heightened awareness of the healing power of nature will be carried through in our post-pandemic messaging. The Nature Explore classroom experience, based on a growing body of evidence, will continue to flourish as a critical role in children's healthy development.