Trees Indiana
Trees Indiana's Nature Explore Classroom has been serving students since 2014. In 2022, a "refresh" of the classroom was a priority. Volunteers came together to clean up the butterfly garden, and scrape and restain the entry bridge and the music area stage. New items were placed in several activity areas. More upgrades are also scheduled for 2023.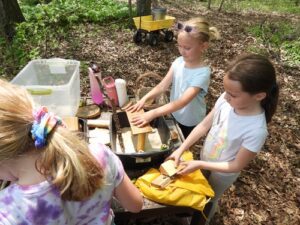 A local woodworkers group had built 10 cedar tables in 2013 for use in the activity areas. In 2022, the woodworkers group, along with a local benefactor, removed the old tables and built new ones. A recycled composite material was used for the tables, prolonging the lifespan of such. This was huge for ongoing maintenance and safety for the students. The donor was all in, understanding the impact the classroom has had with the youth, teachers and families within his local community.
The space has been a focal point for community collaborations. Partnering with like-minded groups, we've been able to recruit qualified volunteers (Master Naturalists) to help with leading student groups. Plans are in place for the addition of new, diverse groups visiting the classroom.