The Nature Explore Classroom at
Twinkeling Stars Child Care and Preschool
When I started my child care in 2012, our backyard was a blank slate. Through various trainings, professional
development books, and Facebook groups inspiration, my philosophy surrounding outdoor play and our outdoor
classroom has changed.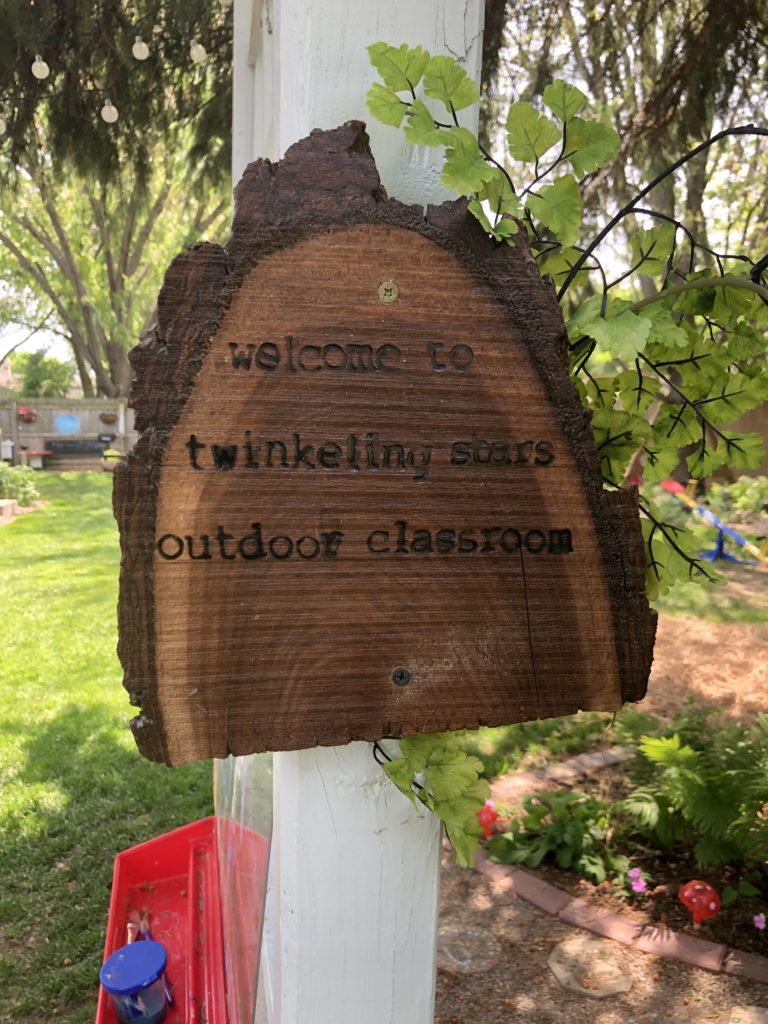 Through the use of fundraisers, parent support, and grant money, we were able to make many additions to
our outdoor classroom. One of the favorites of the children is the water pump! They love having the ability to get their own water to water plants, add to the sandbox, use in their dramatic play, and so much more. Once the seeds and seedlings are planted, the children care for their garden completely on their own. They take pride in watering it, harvesting the food, and often eat their vegetables fresh from the garden.
The Nature Explore Certification has pushed me to view our outdoor classroom in so many new ways. I no
longer look at the outdoors as a place to solely explore nature and build gross motor skills. Instead, I've started
looking at it as needing all the opportunities our indoor classroom has. Adding art materials has been an enormous hit with the children, and I've loved watching them explore using natural items as part of their art.
In addition, we've begun to build our outdoor library, using books that have had their spine worn down. I
laminate the pages and bind them using a plastic binding machine. This way, if books are accidentally left on the wet grass, they'll still be usable. We hung a "safe spot" swing under a tree and added a little library for the children to sit and read when they need time alone. Of course, the books don't need to stay in the safe spot, and children are often found reading all over the yard.
As we continue to put our focus and financial efforts towards the outdoor classroom, we hope to install fall zone padding and artificial grass under the swings. This would allow the children to use the swings year-round; as it is, currently they are not able to use it during mud season as the mud becomes so thick that it kills the grass when they walk through the grass after playing on the swings. Swings develop the vestibular sense in children, and I believe that swings are a quintessential right of every childhood. Therefore, we are willing to put the money and time to make them usable every day of the year.
Finally, my goal for future years is to build a large raised garden that the children can help to plant and
develop each year. While they have loved their small garden, I have seen the growth and development they receive from growing their own food, and would like to give them more space to do so. Ideally, I would like to also have a large squash and pumpkin arch for the children to plant and walk under on their path to the outdoor classroom.

Address
2198 Redtail Dr.
Neenah, WI 54956