UF Health Shands Children's Hospital

UF Health Children's Healing Garden is a one-of-a-kind resource designed to uplift the spirits of patients and families through distraction, relaxation, and physical activity. It is a nature-based play and learning space designed to promote health through connections with nature. Our goal is to offer a place to relieve stress, improve mental well-being, and uplift the spirits of our patients and families. By giving children and families a place to connect with nature, we hope to revitalize and renew their energy and strength.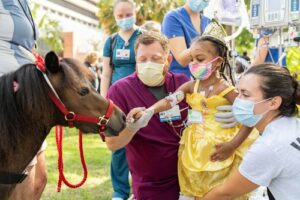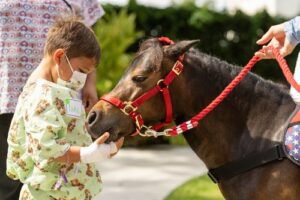 The garden project received seed funding from the USDA Forest Service and the additional funds were raised within the community through local businesses and private donors. A design charrette was held in February 2018 that included a multidisciplinary team of hospital staff, Nature Explore consultants, USDA Forestry representatives, and other experts, to create the concept and original design.
Upon entry, visitors are greeted with vibrant lantana plants, butterfly milkweed, and salvia plants which supply pops of color throughout the grounds and attract native butterflies. A small accessible stage allows for impromptu performances by both children and visitors, allowing children's imaginations to temporarily transport them anywhere.
The garden also includes walking paths, a nature art area, relaxation area with seating, raised gardening beds, wheeled toy path, and interactive areas for children of all ages to engage in unstructured exploratory play.
The landscaping and hardscaping were a massive team effort, involving many different hospital departments, agencies, architects, and contractors. Throughout the entire process, the team took special care to select design elements that would comfort and inspire children during their hospital stay.