The Nature Explore Classroom at
UF Health Shands Children's Hospital
The UF Health Children's Healing Garden is a one-of-a-kind resource designed to uplift the spirits of our patients and families through distraction, relaxation and physical activity. This distinctive environment complements the superb medical care provided at UF Health Shands Hospital and UF Health Shands Children's Hospital in Gainesville, Florida, by promoting healing and wellness through connection with nature. Our goal is to offer a place to relieve stress, improve mental well-being and provide an opportunity for patients to leave the indoor hospital environment. By giving children and families a place to connect with nature, we hope to revitalize and renew their energy and strength.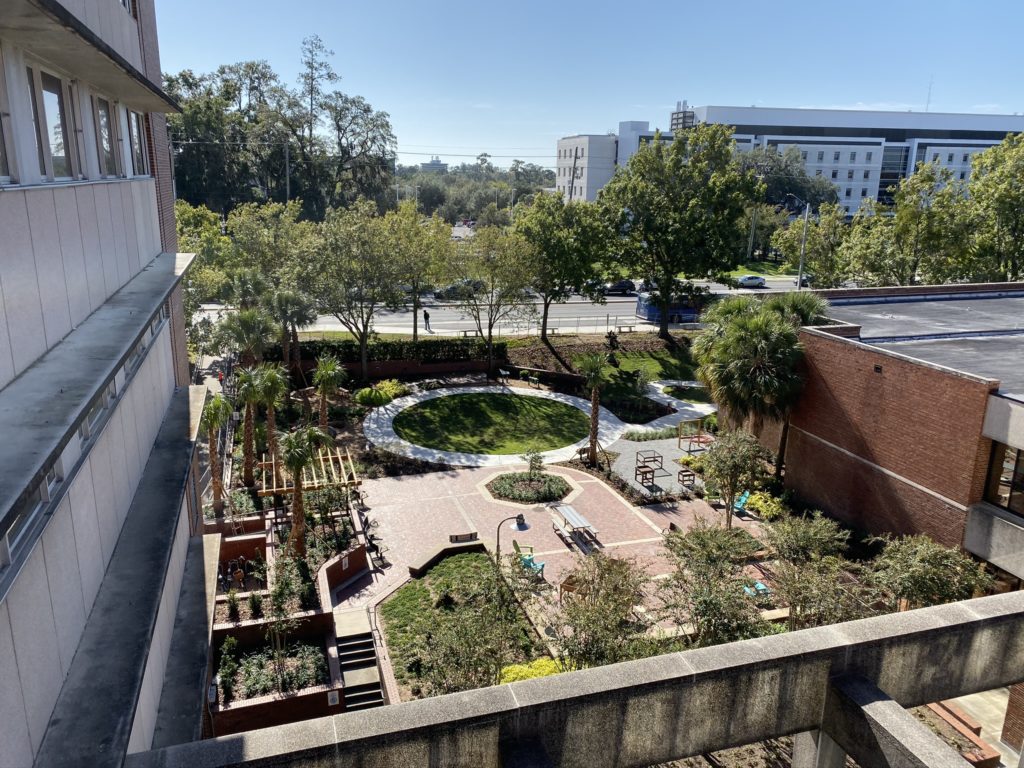 Our healing garden, which creates dynamic, nature-based play and learning spaces, received seed funding from the U.S. Department of Agriculture Forest Service, and additional funds were raised within the community through local businesses and private donors. A design charrette was held in February 2018 that included a team of hospital staff, Nature Explore® consultants, USDA Forest Service representatives and other natural resource experts to create the concept and original design.
A wooden arbor adorned with vivid purple and red passion flower vines marks the entryway to the gardens. When visitors enter, they are greeted with vibrant lantana plants, butterfly milkweed and salvia plants, which provide pops of color throughout the grounds and attract native butterflies. A small accessible stage allows for impromptu performances by children and visitors, allowing their imaginations to temporarily transport them anywhere. The garden also includes walking paths, a nature art area, a relaxation area with seating, raised gardening beds, a wheeled toy path and interactive areas for children of all ages to engage in unstructured exploratory play.
The landscaping and hardscaping were a team effort, involving many different hospital departments, agencies, architects and contractors. The team took special care to select design elements that would comfort and inspire children during their hospital stays. Plants native to the area were chosen by experts to provide year-round greenery and visually captivate the attention of children.
We are excited and thank all of our amazing partners on this journey. This would not have been possible without the generosity of Bob and Janet Raven; the local chapters of the Florida Nursery, Growers and Landscape Association; the USDA Forest Service; and the National Environmental Education Foundation.

Address
1600 SW Archer Road
Gainesville, FL  32610