Under the Gingko Tree
"Mr. Skip! Mr. Skip!" I turn around to see all the students racing to greet our park friend, Mr. Skip.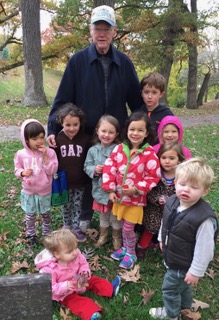 Yes, Mr. Skip is often the highlight of our hikes to our local city park. Mr. Skip is 88 years old and always greets us with a big smile, open arms, high fives and a pickup and hug for the littlest in our program. Mr. Skip is famous for giving advice on how to pump the swing, cross the street, or what type of tree we may be under. Mr. Skip is much wiser and listened to much more intensely than me, because, well, he's Mr. Skip! We know Mr. Skip enjoys chocolate pudding, the Chicago Cubs and has candy for us on Halloween! We send him birthday cards and drawings and if we don't see him for a number of days, the worry sets in! Is Mr. Skip sick, is he on vacation? The concern and love are deep and sincere. The relationships that have grown from our outdoor adventures are just one of the many unexpected benefits that came with our Nature Explore classroom.
The number of adults in our neighborhood and community that have taken the Gingko Tree kids under their wing is not only astonishing but also a gift to everyone involved. Ms. Marilyn is our retired kindergarten teacher and next door neighbor who shares her milkweed, cocoons, monarchs and science expertise with us each week. She kindly "drinks" our acorn soup and adds seashells and other treasures to our loose parts play. Ms. Ashley and Mr. Isham deliver our mail. Mr. Addison keeps our park mowed and creates chairs from the stumps of dead trees. Mr. Gary and his dog Nino, wave from a distance because Nino likes our children a little too much! Our list of friends goes on and on!
The adults in our lives all share stories of their childhood. Stories about the freedom they had, the friendships they made and a life outdoors in nature that many children today, may not be aware of. They appreciate that they will see us in January, as likely as they will in July. They understand the importance of nature in the lives of our children. They are an extra set of eyes as we cross the street, and an extra set of hands when needed to hold a bountiful of mulberries from the tree. More than that, they are our friends. These are the relationships that nourish us. A piece of the puzzle that completes our time outdoors.
These bonds are what add to the beauty of our Nature Explore puzzle The puzzle piece of time in nature with new friends who collaborate with us as we learn about insects, berries or trails. They are our garden of friends whose arrival surprises us at every bend of our trail. They help us grow, they watch us learn, and they smile. The smile that comes with blue skies, and green trees and fresh berries and little friends exploring. We are so very thankful for all of our neighborhood friends, although there is a strong chance Mr. Skip will always reign as the king of our hill.