Under the Gingko Tree
"I did it! Look! I did it! I hammered it all the way down!" shouts three-year-old Gabe with pride. This is our preschoolers' first day of learning how to hammer nails into stumps. "Playing with dangerous tools" is one of the top six activities that children enjoy when engaging in "risky" play.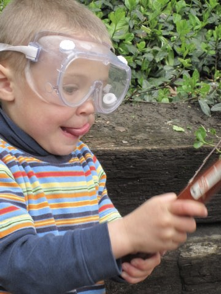 Risky play is about boundary testing, which leads to greater self-confidence, increased resilience and better risk-management skills. Today's activity, which teaches life skills along with math and science, is a popular one with our preschoolers. We want the children in our care to develop and understand relationships with objects, places and people.
To help foster the development of spatial awareness, we must provide opportunities for young children to explore and investigate locations, positions, directions and shapes. As we build the foundation for spatial awareness, we are introducing children to geometry, perspective, measurement, size, composition and decomposition. This is what the curriculum looks like in outdoor classrooms.