Under the Oak Tree
We added a new portion to our outdoor classroom this year. That new area is a cut flower garden. We wanted an area where the children could pick flowers freely anytime they wanted.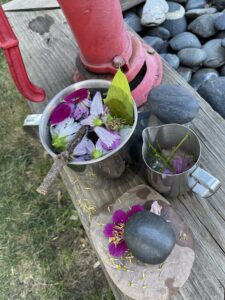 This idea was born last summer. I struggled to explain why we couldn't pick all the blooms from our garden plants. We had a very small pumpkin crop because we weren't able to keep many blooms on our plants before they were picked. We talked about female and male blooms and how the bees pollinate the plants and that is how we get our beautiful pumpkins. The children still yearned to pick beautiful flowers and couldn't resist.
We planned our cut flower garden this winter by looking over many seed catalogs. We chose to plant a variety of Cosmos this Spring. They are the perfect flower and have bloomed so many blooms and provided so much fun and excitement. The children's favorite way to use the flowers is by creating many fairy soups for everyone to enjoy. They also love to tear the flowers apart and examine the parts of the flower.
I have enjoyed my nightly ritual of cleaning up the yard after play and finding so many beautiful surprises each time I make my rounds. We plan to plant additional flowers next year to add to the cut flower garden. It's exciting to think how many flowers we can grow and explore.