University Children's Learning Center
Preschool Outdoor Classroom
Wow, what a year it has been! The children here at the University Children's Learning Center
really lived up to exploring and experiencing nature.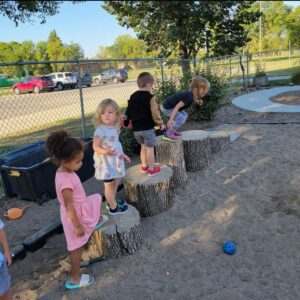 Each classroom worked hard at growing their own gardens. Yellow Family grew cucumbers, lettuce, green peppers, cherry tomatoes and some beautiful flowers. Blue family grew all different types of tomatoes and the Purple Family grew tons of carrots, green beans and beautiful wild flowers.
One of our biggest experiences this year was "International Mud Day". The whole Center enjoyed this day together. We used our dirt digging box to make a literal mud tub and our hill turned into a mud
slip and slide. Some children were so muddy that we could only see the white of their eyes.
Children used our outdoor nature classroom in many different and creative ways. They used
our logs as balance beams, our tree cookies for sculptures and our tree stumps as stove tops
for pretend cooking. This year we also had an abundance of crickets hiding around the logs.
Children loved to find them and explore how they moved around. We are hoping for a warmer
winter so we can go sledding again on our hill. It's been quite a busy year and we are looking
forward to all the new experiences in the upcoming year.