University Children's Learning Center
Preschool Outdoor Classroom
At the University Children's Learning Center, we believe children learn through active play and as a Center we approach learning through our "Emergent Curriculum". This means that the activities planned and provided by the teachers "emerge" from what the children are observed doing, expressing interest in and talking about with one another.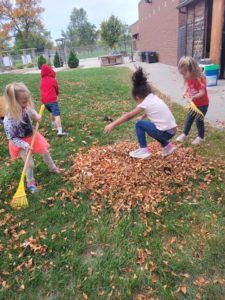 This involves the teachers carefully observing the children and listening to them, then using their professional knowledge of early childhood education to create learning activities. The environment, both indoors and outdoors, is carefully prepared and organized based on these close observations of the children's interests.
The UCLC "Nature Explore" classroom consists of: 2 Gathering spaces, 2 Nature Art Areas, Building Area, Messy Materials Area, 2 Water Areas, Wheeled Toy Area, Dirt Digging Area, 2 Garden Areas, Climbing/Crawling Area, plus 2 Music and Movement Areas. Each area was designed to meet the needs of children learning through active play.
The "Gathering Space" is an area that children and teachers can transition between indoor and outdoor spaces. The "Nature Art Area" is an area that children can paint on an outdoor easel or use the nature art table to create something they found outdoors. Our "Building Area" encourages children to explore with their fine motor skills and use their imagination to build structures and nature sculptures. In the "Messy Materials" area we encourage children to use their large muscles and build with natural loose parts such as tree cookies and cut logs. The children use the "Water" areas to build rivers, see how waterfalls work and engaged in sensory play. Our self-circulating "Wheeled Toy" area with all season's surfaces is a wonderful area that promotes large motor movement through peddling and cooperating riding.
In our "Dirt Digging" area is a raised box where children have the opportunity to dig in loose friable soil without uprooting the nearby plant material. In the "Garden" area children have a chance to learn how to grow plants from seeds and how to take care of them so they are able to produce vegetables or fruits. We even have 2 apple trees that children learn about how they blossom and bear fruit for the harvest. A series of logs and varied log stumps make up the "Climbing and Crawling" area. This area helps promote large motor development for children ages 2 and up. Lastly, we have 2 music and movement areas in which children can produce their own music on an 11- Key Akambira's, hand drums, bells, tambourines, and rain sticks. Children are able to move, shake, and dance on our raised stage next to the music area. The children genuinely delight in the music and movement area because it gives them an opportunity to experiment with a range of sounds.
Each one of our "Nature Explore" classroom areas help our children develop confidence in themselves and they are free to explore on their own while feeling safe and secure in the areas. UCLC is proud to have an extensive outdoor learning environment for children.