The Nature Explore Classroom at
University of Connecticut
Child Development Labs
The University of Connecticut Child Development Laboratories had completed three Nature Explore Classrooms.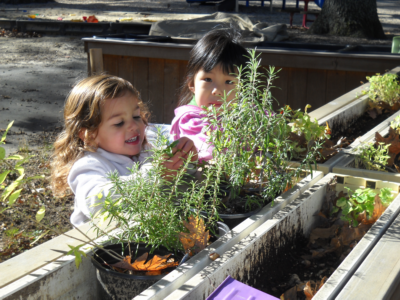 Offering programs for young children ages six weeks to five years, the CDL has created separate classrooms for their preschool, toddler and infant groups.
The University of Connecticut CDL is committed to providing developmentally appropriate curriculum that is based on current research and knowledge of child development. The CDL's primary goals are to foster the optimal development of children, to set an example for other early childhood programs, and to impart to students high ideals and goals. With their example of initiative and commitment in developing Nature Explore Classrooms for all three of their age groups, they are setting a wonderful example and encouraging others to create similar spaces for children in their own programs.
During a family parent meeting, teachers explained the philosophy behind the Nature Explore initiative to all the families and asked parents to continue to offer suggestions and support in the mission to receive Nature Explore Certification. They have been given lists of needed items as well as requests to lend their time in constructing new items in the spaces. Children helped create names for the areas and large murals that reflect their interests.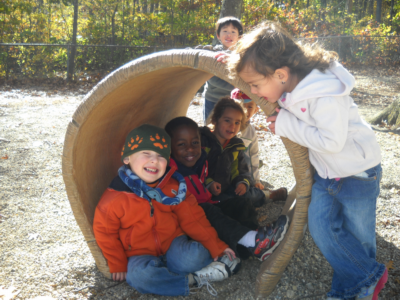 All three individual classrooms contain all areas needed for certification with the Nature Explore program. All shelving, planters, as well as enclosures, are made from natural materials. Using Trex to build platforms and decks, and natural materials where possible, each of these spaces developed into aesthetically pleasing and interesting spaces where children may learn and grow with nature.
Flowers, grasses, vegetables, and trees are found throughout these classrooms while a large variety of other natural materials fill the spaces. Native Miscanthus Adajio is planted in the pathway, near trellises and in the entry features. Local river rocks and shells and sand from the local beaches have been included. Locally grown gourds and pumpkins are found in the classrooms as well as hay from the bard on the UCONN campus. Feathers, pine cones, sticks, and leaves are always plentiful.
A grandparent designed and donated the Book Nook. Colorful, weather-resistant fabric was used to drape over this cozy area and also made into scarves for the Music and Movement area. A porch closet houses and preserves natural fiber mats, toys and musical instruments at the end of each day.
A Nature Explore Family Club and monthly Nature Walks have been started. 45 families in the program receive information through email flyers, face to face communication and a large Nature Explore bulletin board. Individual classrooms have been writing about changes, improvements and newly purchased items in their child's Nature Explore classroom in their monthly newsletter.

Address
843 Bolton Road
U-1117
Storrs, CT 06269
Classroom website