University of Connecticut
Child Development Labs
Our Nature Explore designation has greatly impacted our practices and connection with the greater UConn community. We have had the opportunity to work with landscape design students, students and faculty who are building solar-powered hydroponic gardens (we now have one on our playground!) and psychology students interested in how time in nature benefits children.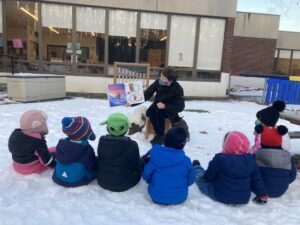 In the fall, we will be teaching an environmental literacy class called "It's never too soon; exploring conservation with preschoolers" and our Nature Explore classrooms will play a huge role in the class.
Currently, we engage our student teachers in the planning for our Nature Explore classrooms. We have added small indoor grow gardens in the classrooms which has been a high interest experience. We are planning on adding more composting opportunities and are exploring vermiculture as one method. We have also focused on bringing the outside into the classroom. Children explore twigs and bark, different types of plants, and play with natural materials such as tree cookies, rocks, and seed pods.