University of California Irvine
Extended Day Center
This year we were not able to make big changes or additions to our outdoor classroom due to the need to spend a lot of time re-integrating all of the children and staff who returned to our program after Covid operations. Instead of letting our outdoor classroom languish, however, we were able to really take the framework we built over the last few years and turn this into a year of outdoor learning.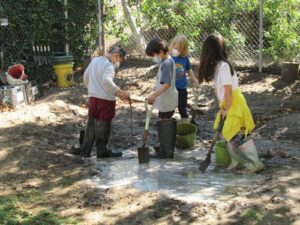 We built upon our Wildlife Habitat Certification and became ardent birdwatchers, participating in the Audubon Great Backyard Bird Count. We watched two families of bluebirds inhabit our bluebird houses and were able to see nesting, eggs, hatching, feeding and bluebirds finally leaving the nest. We added a birdbath and learned what types of food would attract a variety of birds. We particularly enjoy the finches that inhabit the Niger feeder in one of our trees and often have 10 or more feeding at a time.
We propagated milkweed and watched caterpillars form chrysalis' and turn into monarch butterflies, which continue to live in our outdoor space. Children counted them and kept track of when they should hatch and rejoiced when they did. We harvested countless lemons and peaches from our trees, turning them into delicious treats to send home for families. We experienced firsthand the surprise of amending our garden beds with compost from our composter and watching what sprouted. It turned out that we did not have to buy any seeds or plants this year, but instead have beds full of volunteer tomatoes, sunflowers, peppers, and several types of gourds and pumpkins from our fall decorations.