University Presbyterian Children's Center
It takes a team to support the learning of all ages outdoors at University Presbyterian Children's Center (UPCC). Several years ago, an educator was assigned as the leader of the playground which then set in motion the steps to transforming the space to a welcoming Nature Explore Classroom with activities introduced to meet all the developmental areas for children from 2 ½ to 5 years of age.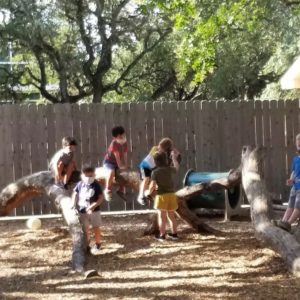 The preschool outdoor classroom leader plans for and implements learning activities in all areas of the Explorers' Backyard Outdoor Classroom every week and oversees maintenance needs through daily safety inspections as well as visioning improvements to the space. While the outdoor classroom leader assumes responsibility for the space much like it was their own indoor classroom, she also makes working collaboratively with the other teachers, that use the space with their children, a priority by seeking their input and help with implementing the activities.
UPCC also serves as a practicum and observation site for local colleges with students taking coursework in early childhood education. Many of the professors recommend the school because of its extensive outdoor classroom, planned learning activities and an emphasis on nature-inspired learning.
The hope of the staff as they welcome students, educators and others into the program is that the nature-inspired learning activities they observe and participate in with the children on the outdoor spaces at UPCC and especially the Explorers' Backyard will be replicated in some form at their current and future places of learning for young children.