University Presbyterian Children's Center
On a very humid evening in close to 100-degree heat in San Antonio, over 350 current and former families and staff gathered to celebrate the 50th Anniversary of the University Presbyterian Children's Center. This celebration had been postponed for a year due to the concerns about large gatherings and masking requirements. The 50th anniversary picnic became an extra special event as it was the first time the church and school community had been together as a group since the start of the Covid pandemic in March 2020.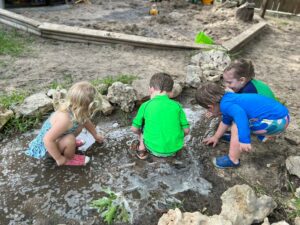 Families and staff from as far back as the 70's returned to the campus and especially enjoyed the "Memory Lane" area filled with photos through the years. The photo display included a large "timeline" that documented the evolution of the outdoor space from a bare lawn with a fence into a more traditional playground with a large climbing structure, sand area, garden and bike path and its renovations over the years to the current Explorers' Backyard with a Mud Kitchen, climbing log, Loose Parts, Art Studio, riverbed and more.
While a local children's music school provided music for families to sing and dance together, numerous activities from "rock painting" and sensory tables filled with bubbles to hula hoops and yard games filled the expansive lawns for all ages to enjoy.
For the special anniversary celebration, an Open House approach gave the families the chance to tour their current and former indoor and outdoor learning settings. Having the Explorers' Backyard open for exploring quickly proved to be an immediate draw for children of all ages to explore with their families and especially so for the "graduates." As the picnic came to an end with the sun already set, five former preschool classmates now reaching their pre-teen years were the very last to leave the Explorers' Backyard with mud on their feet and clothes as they giggled together. While the director checked to make sure all the classroom doors bordering the outdoor classroom were locked, one of the fathers of the graduates said to her, "Who knew a Mud Kitchen could be so fun! These guys never once left the playground the entire time and they still are not ready to leave."