University Presbyterian Children's Center
Little Explorers' Yard
Through the forces of nature and a commitment to repurposing, the Little Explorers' Yard evolved over the past year with new additions.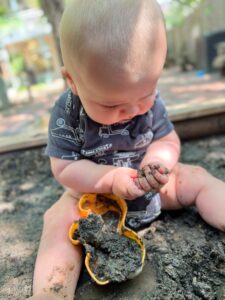 As the natural climbing log began to show extensive decay, which captured the toddlers' attention as they poked at and broke off sections of the log over time, it was time to replace this gross motor feature on the Little Explorers' Yard with another climbing feature. The school purchased a well-made wooden "Toddler Climbing Set" consisting of multiple platforms of different heights, a bridge, tunnel and beams to replace the large tree log and small tree stumps. The new items provided additional gross motor challenges for the older infants and toddlers and allowed for these skills to be encouraged in multiple areas in the outdoor classroom.
Throughout the year, the team leader in charge of planning for the Little Explorers' Yard added and replaced a variety of recycled/re-purposed items. CD discs that reflected in the sun in additiol to colorful items, ribbons and windsocks were used as mobiles in the trees for infants placed on blankets underneath as well as interesting items for older infants and toddlers reach for overhead. Colorful fabrics and "renewed" crib sheets with drawings and designs made by the teachers using fabric markers were added to the Mud Diner as tablecloths and curtains to give the area more of a home-like feel. Plastic and metal containers of a variety of sizes filled with loose materials or left empty for the infants and toddlers to explore sounds, sizes, designs and the concepts of empty/full.
Naturally occurring elements present in the Little Explorers' Yard further enhanced the sensory experiences and extended the curriculum planned for the children. In addition to the songs of Texas mockingbirds in the spring and summer, colorful leaves the fell from the large red oak tree in the late fall encourage the children to throw and use for filling buckets and wagons. The Sensory Days in the spring and summer as well as the International Mud Day in June provided rich sensory experiences as the children explored the unique sandy and muddy textures with their hands and feet. The Herb Garden and edible flowerbeds proved the opportunity to care for plants and observe the changes in the plants over the different seasons.
The variety of pumpkins left over from the school's annual Fall Festival were also repuposed as planters for smaller plants and will give the children opprotunity to observe changes as they decay over time and possibly become new plants the next summer. .