University Presbyterian Children's Center
Little Explorers' Yard
As the toddlers and their families planted flowers and herbs together on the Little Explorers' Yard during drop off on the last Friday before spring break in March, the thoughts of closing for a pandemic were far from anyone's mind. Yet, the school did officially close for the pandemic soon the next week and remained closed until the end of July.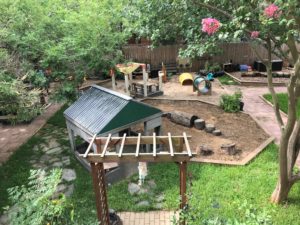 With the school closed, the time offered an ideal opportunity to landscape the infant and toddler classroom with grassy areas and stone pathways between some of the areas as well as extending the wheel toy pathway. When the school reopened at the end of the July, the infants and toddlers returned to their outdoor classroom much like a "secret garden" with lush grass to feel with bare feet and a soft space for infants to relax as well as new stone pathways and an extended wheel toy path for toddlers to explore.
In the fall the families were encouraged to send edible flowers and herbs for the children to plant and care for with the teachers in the planters and gardens on the outdoor space. The educators adjusted their daily schedules to give the infants and toddlers more time outside in response to the pandemic and to have more opportunities to explore in nature.
After each one the classrooms spend their individually assigned hour exploring the learning zones and planned activities on the Little Explorers' Yard, the classrooms then take a walk to explore nature around the church campus as they crawl or toddle on the grassy lawn, march on the sidewalks, climb the "hill" and end with resting or listening to a story under the shade of one of the expansive oak trees on campus. On their way back to their classroom, the children stop to listen and observe the rock fountain on the side of the church, which offers a reflective routine to their day as they return back to the comfort and secure base of their classroom and the Little Explorers' Yard.