University Presbyterian Children's Center
Little Explorers' Yard
It takes a team to support the learning of all ages outdoors at University Presbyterian Children's Center (UPCC). The Little Explorers Yard at UPCC has an infant/toddler educator assigned as the leader of the outdoor classroom for the children from 2-months to 3-years of age.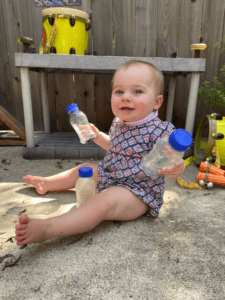 The transition to a team leader in charge of planning for, setting up daily activities and overseeing the needs of the space has transformed this space into a welcoming and dynamic Nature Explore Classroom with special activities to meet all the developmental needs of infants and toddlers. The team leader focuses on regularly rotating materials in all areas, from as a variety of bowls in the Mud Kitchen to sensory bottles made from recycled material, to heighten interest, coordinate with seasonal topics and ultimately to promote learning in all areas of development during the first 3 years of life.
The variety of surfaces of grass, sand, pavers and nature items to encourage climbing from tree stumps, logs, and risers encourage the emerging gross motor skills of infants sitting up and crawling to the early steps of walking and finally the running and climbing of toddlers. In addition, the team leader oversees the updates and maintenance of the outdoor classroom throughout the year.
After the weeklong severe winter storm in South Texas in the winter of 2021 that the region had not experienced before, the outdoor classroom leader and the other educators that use the space with their infants and toddlers focused on replanting and freshening up the variety of herb and flower gardens in the space. Families were encouraged to bring in edible flowers and herbs for their child and classmates to help plant throughout the spring. The classes then developed daily routines of observing and taking care of the new plants. Like the gardening and plant tending by the children, the teachers welcome observers and lab students into their classrooms every year in the hope that the nature-inspired learning activities they observe and participate in with the infants and toddlers outside "plant a seed" that will hopefully "grow" and "blossom" in some form at their current and future outdoor learning spaces for young children.