Waterford School
What makes the Nature Explore Classroom unique and special?
Due to COVID 19, we moved our classroom entrances to the outside doors. It's so nice having "Gathering Areas" under the patios as a welcome spot to sign-in and then get moving! We also use patios for building structures, art materials, music & movement activities, and small group instruction or story reading. It's so nice having covered areas outside!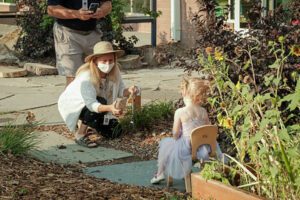 We LOVE the "Garden Box Area" for dirt-digging, seed planting & watering, and noticing changes as plants grow! From sunflowers and pumpkins in the fall to snow-covered, dried-out plants in winter (with chores like clearing out old leaves) we are so excited to have made it to spring! We're admiring new bulbs and seedlings that inspire the wonder and awe of our amazing earth!
The "Grassy Field" is such a great place for races, flying kites and wind toys, launching rockets, as well as playing tag games like 'Duck, Duck, Goose' and 'Ring Around the Rosie'. Watching for birds, airplanes, and cloud formations, children have senses piqued as they share observations. The views of the mountains are inspiring especially as the seasons change. Especially in winter children cheer as we notice the sun rising up over the peaks bringing us warmth, gradually melting the frost, and making our shadows super long!
"Tunnel Hill" is a destination children set out on a quest to conquer. Climbing giant granite boulders from the nearby canyon, children feel on top of the world! They have a favorite "jumping rock" that is just the right height to be a challenge children choose to show their strength. The reassuring soft wood-chip landing makes it fun for them to say, "I'm doing that again!"
The "Stump Path", "Balancing Logs", and "Balancing Rocks' ' around the sand pit are all such delightful places for following the leader in every season.