The Nature Explore Classroom at
West Beach Park
Volunteers create a new playground and outdoor classroom in one day.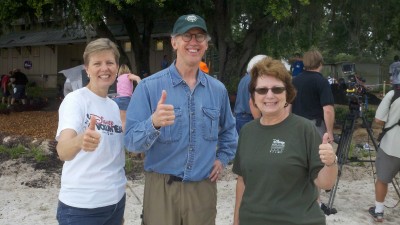 At sunrise on May 4, 2013, people began to gather under heavy clouds in an open area of West Beach Park in Clermont Florida. By mid-afternoon that day, more than 350 volunteers had turned that spot of land into an engaging play area, with a complete Nature Explore Classroom and two new play structures. The new playground and Nature Explore outdoor classroom were constructed in less than six hours, the culmination of months of collaboration between the City of Clermont, Boys & Girls Clubs of Lake and Sumter Counties, Nature Explore, Disney, and KaBOOM!
Planning for the playground and outdoor classroom began in March at a "Design Day" event. Local children, parents, educators, and representatives of the City of Clermont met with KaBOOM!, Nature Explore, and Disney to share their dreams, visions and needs for the new space. The completed space was inspired by their ideas and also reflects Nature Explore's educational research and field-tested design principles.
Children need a place to play and learn every day in order to be active and healthy. Previously, West Beach Park only had two sets of swings for children to enjoy at the park. "The playground and outdoor classroom at West Beach are a unique addition to the City of Clermont's parks system," said City Manager Darren Gray. "The City is proud to be a partner in this exciting community project that gives our children a new place to play."
The Nature Explore Classroom added more than 800 native and hardy plants, including large trees, to the park. Concrete art tiles created by children of the Boys and Girls Club mark the entry to the new play space. Children will create their own music on an outdoor chime instrument. With new plant life to explore, a large log on which to climb and balance, and natural items to play with, children will find many imaginative and creative ways to use all of their senses plus physical movement to experience nature.
This wonderful example of collaboration between many organizations will have a lasting impact on the whole community for years to come.
Address
1215 Lake Minneola Dr.
Clermont, FL 34711
Classroom Website