The Nature Explore Classroom at
Westport Weston
Cooperative Nursery School
The Westport Weston Cooperative Nursery School made a commitment in September 2012 to study and improve our approach to outdoor play.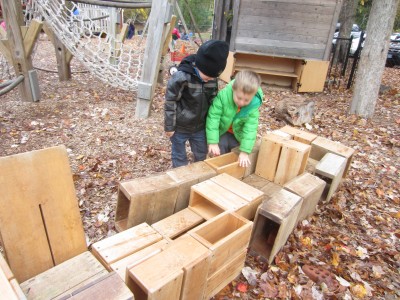 This commitment has taken our staff on a joyful journey together. We are so pleased with the work we have done and the results we have reaped. We see the children busy in such productive play. The outdoors has become the frontispiece of our school and a much larger core to our curriculum. Our Outdoor Classroom is an amazing space with many new learning opportunities for children and adults. Originally our playground centered on two large climbing structures, two large swing sets and a large sandbox. The study and improvement process was multi-faceted and had us reflecting on the space right from the point of entry:
Observation: Staff studied the present uses of the space at that time; what was attractive to the children; what seemed like wasted space; was there a challenge to the play options; what was in disrepair; were there enough materials for all.
Investigation: We investigated ways to fund our Outdoor Classroom project. We received funding from CT Charts a Course for Professional Development for teachers and a private grant from a family foundation in our area to improve our equipment.
Professional Development: The Co-op planned three Nature Explore workshops for staff: Documenting Children's Learning with Nature; Importance of Visual-Spatial Learning; and Using your Outdoor Classroom. Staff also attended a number of other outside workshops on topics including planting and Big Body Play. Professional Development day was given to have teachers work in small groups taking on a section of the playground for clean-up and aesthetic improvement.
Creating: Teachers work to create new spaces; a jumping log, stick huts, a music wall,
entry arches, planting a container garden, and a tree surround bench with brick sitting wall for gathering. We also installed a rain barrel for water in our messy play area.
Planning: Teachers plan outdoor curriculum on a weekly basis. They gather new materials regularly for the children to explore; vines, hay, bamboo poles, and other local resources they find. Teachers engage children in planning what will come next in their play, encouraging co-operation and brainstorming the use of materials and space.
Assessing: Teachers observe children's play; their use of equipment and the natural materials provided. They also observe the areas drawing children in to play and watch for less attractive areas. Teachers take photos to document activities. Photos are used to identify more active areas of the playground and are also placed in the children's journals as evidence of participation in activities as well as evidence of skill-building.
Pat Rackliffe, Director

Address
10 Lyons Plains Road
Westport, CT 06880
Classroom website
Facebook