Westport Weston
Cooperative Nursery School
Nature and the outdoor environment have always been an important piece of the Co-op experience. Each of our classrooms has a glass wall looking out over the school's property. Even when indoors, children observe signs of the seasons, wildlife visitors like wild turkeys, deer, hawks as well as other beautiful birds.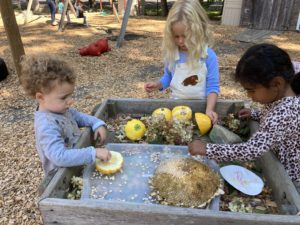 As the school is tucked away in a wooded area in a suburban town, it is the perfect spot for nursery school. We have a nearly eight thousand square foot enclosed playground, a grand lawn area, nature paths and a babbling brook along our properties edge.
Our experience has shown us that outdoor play has countless benefits to the children in our program. Even for toddlers with difficulty separating, stepping outdoors to look for birds and squirrels can offer a calming distraction and breath of fresh air. With older children, taking typically indoor materials, like wooden blocks, easels, and paints outside offers them endless opportunities to experiment with different light and sounds, and to add nature's offerings, that may have fallen at their feet to their work, such as rocks, twigs, leaves.
Planning outdoor curriculum, teachers not only consider the children's healthy physical exercise, but also plan for science exploration having handy tweezers, binoculars, and magnifying glasses. Aesthetic appreciation is encouraged by adding yards of fabric for wrapping and making canopies and supplying real and artificial flowers for planting. Dramatic play is extended with the addition of mason's bricks, PVC pipes and joints and a rain barrel that supplies plenty of water for mud.
Our outdoor classroom is the preferred area of our school for our children. There are always projects to complete, games to continue and new ideas to explore.