Westwood Early Childhood Center
Our outdoor classrooms are unique and flexible. All eight of our classes spend time outside exploring natural materials and sensory experiences.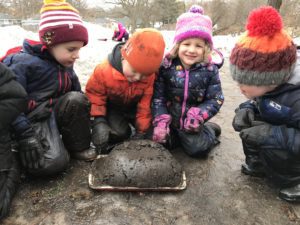 The winter is filled with experiments of freezing and thawing, slippery and sticky and cold and warm. Our educators provide materials and time for the children to observe and react. The springtime at WECC always brings animals and planting! On campus we have mallard ducks, snapping turtles, toads, inchworms and more! The educators and children collaborate together on what these animals might need from us and how to be stewards of the earth. Each year we also watch perennials grow and plant sunflowers and vegetables to observe and enjoy into the summer and fall.