Westwood Early Childhood Center
A special annual event at WECC is to celebrate International Mud Day. This is a time for children and educators to fully explore the material MUD.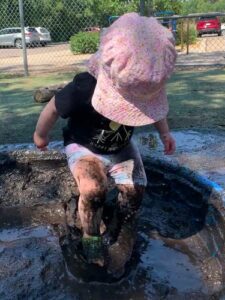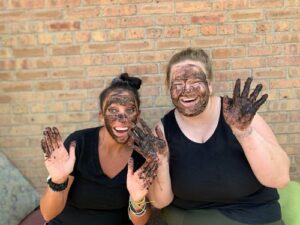 There is opportunity to share the benefits of mud, sensory play and getting messy with families and other programs during this time. Parents help us prepare by donating topsoil to the program. This year we had three spaces for children to explore. Our infant invitation contained a beautiful space with dirt, bowls of water, and mixed mud. The infants arrived in small groups and were able to choose how to explore this newer sensory material.
In our toddler outdoor play space, we set out a large mud pool for open exploration and large easels for the children to paint with mud. In our preschool outdoor classroom, we invited children to use natural loose parts to create detailed mud pies, added wood pieces to a large mud hole to create structures and bridges, and set out colored mud paint for children to apply to canvas. We strive for messy and satisfying experiences while still allowing the children to immerse themselves to the point of their comfort. In the end, the majority of the children were covered! As the exciting, messy and fun-filled day came to a close, educators and children worked together to wash materials and add the used mud to our garden beds.