Winnie Palmer Nature Reserve
at Saint Vincent College
Nature Explore Certified Areas: Much work has been done in the unstructured Children's Play Area on the WPNR landscape. The sundial was repainted, and new metal numbers and letters will be installed to preserve the integrity of the project. Fairy play gardens, a new kitchen area with a menu, baskets, and food, and a new music area to include a thunderwall are all being added and upgraded.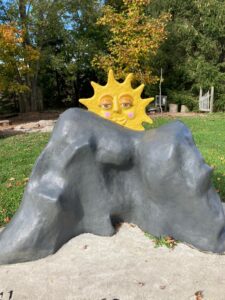 Portions of the Children's Play Area were enhanced for wildlife and natural fencing by lining the paths with stones, installing Elderberry shrubs, three Linden trees, and removing all poison ivy.
In addition, a Little Free Library was built and installed to provide seeds and books to the community and is located at the edge of the Children's Play Area. The library will allow for use and donation of both seeds and books and is registered on the LFL website with a searchable charter number. The Library officially debuted in November of 2021 with free copies of "Braiding Sweetgrass," sweetgrass braids, seeds, and more. A December wrapped book share and Twigling find was introduced for visitors to promote sharing and merriment.