The Nature Explore Classroom at
All About Kids Family Child Care
I became interested in creating an outdoor classroom for my family child care program nearly 3 years ago. I had seen natural outdoor play areas but didn't know where to begin.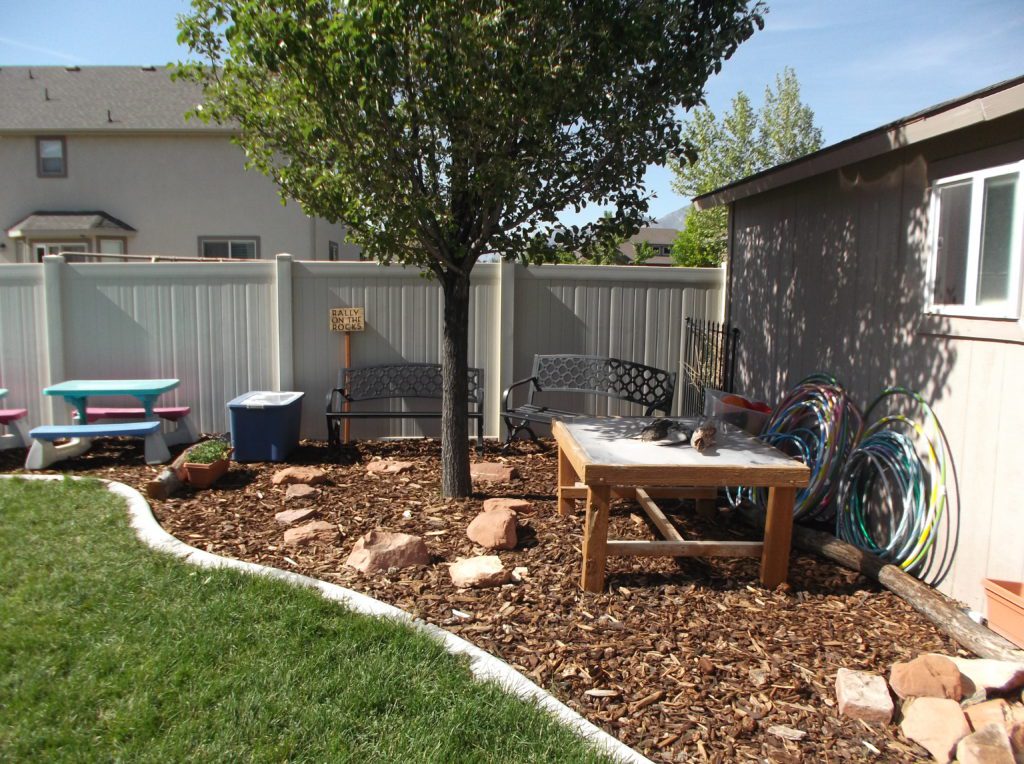 When I attended a Nature Explore workshop, I found a direction. I knew that I wanted to create something unique for the children who would use it. My family and many of the families I serve enjoy visiting State and National Parks. One favorite vacation spot is Moab, Utah which is near Arches and Canyonlands National Parks and Dead Horse State Park. We have named our activity areas after places near there.
Children and families are welcomed into our outdoor classroom through a gate. Nearby, a sign identifies our classroom and flowers, logs, and tree cookies let everyone know they are entering a special place. The activity areas are arranged around the perimeter of the large open space known as, "The Meadow". The children have plenty of room to play tag, kick a ball, play with hula hoops, or practice other gross motor skills.
Our gathering area, "Rally on the Rocks" was created by the children with red rocks brought from Moab. The children arrange and rearrange the rocks to create a path around the benches. Near here is "Fisher Towers", our block building area. We have tables for the children to use tree cookies, recycled unit blocks, and natural tree blocks.
The music and movement area, "The Grotto", is located under a beautiful maple tree. Here the children use scarves, homemade pipe chimes, and other handheld instruments including shakers made from dried gourds. Two favorite areas of the children are, "Sand Flats", the covered sandbox, and "Flat Pass", the wheeled toy area.
The messy materials area, "The Ruins", is separated from the other areas by large tree sections. It is stocked with logs, tree cookies, and large trucks to move around the woodchips. Also located in the woodchips is, "Top of the World", the climbing/crawling area. It has a tree trunk balance beam and tree stumps for jumping. This area also has a unique climbing tree stump carved from the trunk of a 70-year-old cottonwood tree.
Our alphabet garden, "Peek-A-Boo Trail", has a cobblestone path. Here the children help plant, weed, and care for the vegetables and flowers. "Hidden Hollow" is tucked away between flowers and bushes and makes a nice shady get-away for one or two children.
The" Nature Art" area is located on the covered deck. The children can use pinecones, acorns, seedpods, rocks, feathers, and other natural materials to create art on picnic tables located there,
I want to thank my husband, the "master builder and problem solver", my son and his "magic chainsaw", and especially the children who continue to inspire me every day. Watching the children play in our outdoor classroom makes me smile and remember the magic of being a child.
Lori Taylor-owner

Address
Spanish Fork, UT 84660