The Nature Explore Classroom at
Babies 2 Kids Learning Center
With a vision in mind and a few years of making additions to the space, the outdoor classroom at Babies 2 Kids Learning Center is now ready.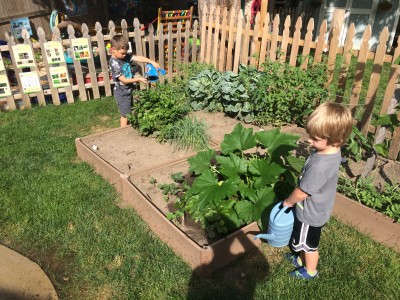 As you enter the space, you will pass by the inspirational rock garden. A garden that includes rocks with inspirational words as well as rocks decorated by each child in the program. Right away you'll notice our large apple tree that you can watch change with the seasons and is always ready to produce a snack in the fall. Then you'll notice our raised bed gardens that the children tend throughout the year. In addition to these planted areas, there is a rain gutter herb garden, plum trees and multiple butterfly gardens and herb bushes planted throughout the play area so children have many chances to explore vegetation and have sensory experiences almost everywhere they play outdoors.
Along with different garden types, this outdoor classroom has a variety of other experiences for the children to explore. There is an area for climbing made of recycled tires donated by a family. There are a few areas to do messy play, such as in the mud kitchen, the dinosaur excavation center or the water wall. Children may experiment with sound on the music wall, learn to garden in the garden center, explore nature and math concepts in the loose parts play and building zone areas, create art on outdoor easels or the outdoor chalkboard, fish from the boat, experiment with pretend play in the outdoor playhouse which is equipped with play food and dishes or gather for a story on the grass patch gathering area.
The surfaces in our outdoor classroom range from concrete, wood chips, old pallets, rocks, grass and sand. Each area is marked with a sign to designated the area. Our outdoor classroom is used in lieu of our indoor classroom for the majority of the day during warm weather months and still frequently in the cooler months. Having access to the gardens and ample outdoor space to roam and play allows the children to not only learn but to stay healthy and active.
Address
411 Hanover Road SW
Cedar Rapids, IA  52404
Facebook