The Nature Explore Classroom at
Bundles of Joy University, Inc.
Salisbury Campus
Our outdoor classroom welcomes friends to the world of outdoor learning.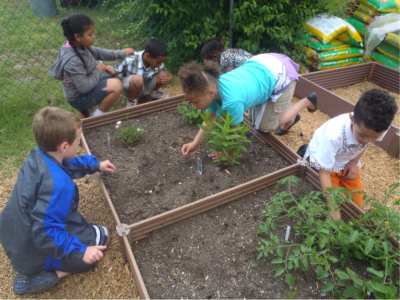 This amazing classroom is the heart of our school that provides a rewarding place for children to discover nature. The classroom is filled with natural materials, gardens, and pathways that lead to more than ten different hands-on areas waiting for children to explore and connect with our natural world. A highlight of this outdoor classroom is our observation deck. Tucked away at the back of the school property, this natural oasis for a variety of plants and wildlife provides children with a serene environment for natural discovery. Observers have stated, "From back here, you would never know we are in the city limits just a block away from the hustle and bustle of Salisbury's flourishing college campus." It is indeed a space for observing nature's wonders.
In addition, family fun nights are offered to the community. These events encourage outdoor experiences as a family. Funds from these unique events help support and maintain this collaborative endeavor.
Joy Barker, Executive Director/Owner

see most recent
Address
1409 South Division St.
Salisbury, MD 21804
Classroom website
Facebook