The Nature Explore Classroom at
Campus Kids Children's Learning Center
Infant Outdoor Classroom
Our story began seven years ago when we first decided to transform our playground into natural play yards. We replaced the old rubber matting and metal climbers with natural planters, stumps and logs for climbing, grass and dirt, butterfly gardens and large sandboxes.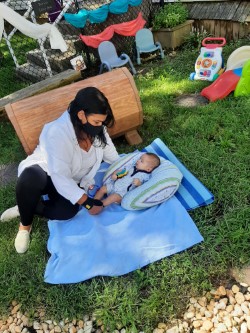 As we researched more about the outdoor classrooms, we decided this was a natural progression for us. With the input of the teachers we began to design the outdoor classrooms with the High Scope curriculum in mind. We incorporated more plants to define spaces and to enhance the sensory experiences for the children. We used rocks to create a pathway and to help with large motor development, and to design the art area. For the messy play area there are plants to define the area and big planter tubs with dirt for digging.
The cozy area has an herb garden filled with peppermint and spearmint, books, soft materials and grass to sit on. The music area has pots and pans dug into the ground for a different kind of sound and the block area has plants, grass and rocks for different textured spaces.
Throughout the design process, we were cognizant to ensure that each area would encourage a hands on active learning experience to align with the High Scope Curriculum. The space provides ample exploratory play while also allowing for proper supervision.
This experience has been an awesome way to create outdoor classrooms and encourage team work and camaraderie for the teachers.

Address
533 College Road
Selden, NY  11784