The Nature Explore Classroom at
The Child Centered Home
The Child Centered Home is the first certified Nature Explore Classroom in the Temecula Valley.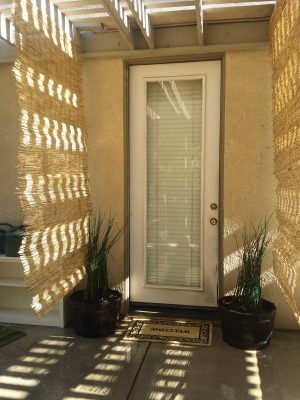 Our goal is to create a rich learning environment for the children in our community that feels like
a home away from home.
We set out on our journey of becoming a Nature Explore Classroom to create an outdoor
learning environment that is stimulating, educational, and fun. Blessed with gorgeous weather
the majority of the year, it was important that our space was a place that children could easily
spend long stretches of time.
Our Art Studio gives the children creative freedom. The children can use traditional or natural art
supplies. There is also a weaving station where children can work on their fine motor skills by
manipulating cloth, leaves, sticks, string, or anything found materials that they can put through
the chicken wire. We have a special little nook here that is for building with blocks and anything
else that we can use to make amazing structures.
In the Garden Center, the children learn about composting and the life cycle of worms. We have a
Green House for the children to observe the process of germinating seeds. In our Mud Pie Kitchen, the children can enjoy creating a "meal" together. They can also dig to their heart's content with anything they can find that makes a nice hole. On an extra special day, they may just discover some bug friends in the dirt.
In our campsite, we have a place for sitting around the campfire and telling stories, and a teepee
draped with snap peas and beans. If you're able to sit still and quiet, you just may get a glimpse
of our lizard friends.
When it's time to set off on a journey, the most fun way to get there is through our Stepping Stump trail. Be sure to get your balance! Our budding thespians, dancers, and singers love taking their turn on stage at The Little Theater. You might even see Spiderman or rock climbers scaling the side of the structure.
At The Arbor, our little ornithologists can watch the birds as they sit back in the hammock chairs or
Adirondack chairs. Our gymnasts can practice their skills on our balance beam.
We have two gardens in our Nature Explore Classroom. The first is our Tire Garden which we try
to keep stocked with plants that are great for picking flowers. Our next garden is our Vineyard.
We grow grapes and strawberries in this magical little area….and it's definitely one of the places
we can see the seasons change them most.
In our very spacious sandbox, which we call The Beach….we can dig, and build sandcastles,
and play with water…..the ideas are endless. One of the best parts about it is that it has a slide
that shoots us right out into the Messy Materials Area.
We would like to thank all of our family, friends, and the parents in our program that helped make
our Nature Explore Classroom a reality.

Address
Paseo del Sol neighborhood of
Temecula, CA  92592