The Nature Explore Classroom at
Crown Hill Explorers Cooperative Preschool
Crown Hill Explorers Cooperative Preschool is proud to be the first North Seattle College Co-Op Preschool to become a Nature Explore Classroom.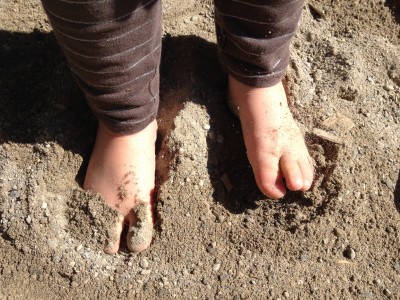 Crown Hill Explorers has 5 classes, the children are 12 months to 5 years and parents/guardians work as teacher assistants in the classroom. Our school is affiliated with the North Seattle College Cooperative Preschool program which includes a parent education element led by a trained Parent Educator.
Families are encouraged to participate in developing our preschool curriculum which builds a supportive learning environment for all of the children. We are blessed to have a cooperative preschool and we are excited to extend our love of the outdoors through the Nature Explore certification.
The first day that we had 'real' metal garden shovels and rakes in our Big Diggers area the children were excited to fill their wheelbarrows with cedar chips. As they worked, we heard them saying "We are working together!", "This is hard work!", "We are a team!" They built an area to fill with chips and then worked together to load the wheelbarrows and move those chips. They were very proud of what they accomplished when they worked as a team! On Earth Day a parent brought in plants and caterpillars; she led a fun small group activity complete with a bit of mud! The children planted and watered in la Jardin then spent time observing caterpillars with their magnifying glasses.
In our Music Makers area, the children enjoy dancing and putting on performances with the instruments. They have so much fun being on stage while their audience applauds and cheers! While some children are digging and others are singing, our Beach Box area is filled with the usual customers. This year, one child loves to play in the sandbox because she knows it is a safe place to take off her shoes and go barefoot.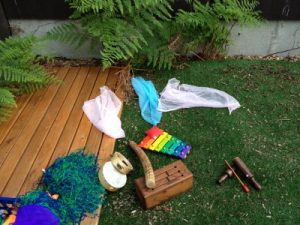 The children like to sit on the logs in our Village Square area during our Circle Time activities, even though it is actually a square! We also love to see them using the logs and stumps in other ways – as a race track for toy vehicles, as a cozy spot to sit and read, or as balancing beams.
In our outdoor classroom, children have many ways to engage with nature thus enriching their learning and encouraging their curiosity. We have areas for creative and imaginative play; toys and tools that promote whole-body movement and collaborative play; opportunities to explore the natural world and develop empathy for living things; quiet spaces that are perfect for enjoying a story; an open area for large-motor activities; tables where blocks topple and cars race and crash; and a cozy gathering spot where everyone enjoys listening to stories and singing. The Nature Explore classroom supports our feeling that experience is the teacher. As I look around our play space, I think of Mr. Rogers as we enjoy "a beautiful day in the neighborhood," playing with our friends and exploring in our outdoor classroom!
Janice Jacobson, Teacher

Address
2400 NW 85th Street
Seattle, WA 98117
Classroom website
Facebook