The Nature Explore Classroom at
It Takes a Village
The moment we began to build our mission statement for It Takes a Village, an outdoor classroom was prioritized.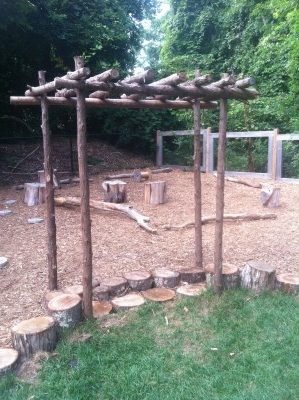 We are committed to fostering the relationship between nature and child and felt the best way to do this would be to extend our classroom into nature. Immediately we developed a bulletin board to showcase to our families what a certified outdoor classroom would look like.
We educated families on the various areas needed and options available to us, and took family suggestions into consideration. In order to help fund our efforts we held 2 local fundraisers and enlisted several local businesses for their assistance. We held a fundraiser with a local organic soap company, Southampton Soap Co, and had a concert/dinner at a local restaurant featuring singer Darlene Graham. We attribute both events to the classrooms success. Our families showed immense support for both events.
When it came to implementing or ideas we were fortunate enough to work with Rachael Stephens from Sweet Woodland farms. She taught the children how to harvest seeds, plants seed, nurture them and gather the harvest. The children attend to our garden daily to care for it and frequently eat tomatoes, beans, cucumbers and even make kale chips for a snack.
Our classroom design was aided greatly by Hampton Woods Landscape. A student's father and local businessman took our vision and ran with it. He was able to incorporate multiple handmade trellises' with winding vines, various sized tree stumps to define many areas, perennials and annuals to add color, a gazebo to shelter the children when we go outside in all weather conditions, and even a customized entryway with our school initials to inform everyone who walks through, that they are entering a very special place.
Our classroom promotes exploration, creativity, and independence/teamwork all at the same time. A day at ITAV could be filled with multiple children collectively moving a large piece of driftwood to create a beam, a single child drawing with chalk on our slate stones, or children balancing while walking on the over a 100 different sized tree stump boarders around the classroom. They play with stepping stones that they created themselves, turn over stumps to explore for creatures and create stories and songs with our silk scarves and musical instruments.
Just as we envisioned, our outdoor classroom plays an integral part in promoting confidence and awareness. It Takes a Village is so grateful to have the opportunity to teach our children in an outdoor classroom every day!

Address
158 West Montauk
Hampton Bays, NY 11946
Classroom website
Facebook