The Nature Explore Classroom at
Little Creek Nature Area
Little Creek Nature Area is owned and operated by the Ferguson-Florissant School District in Florissant, MO.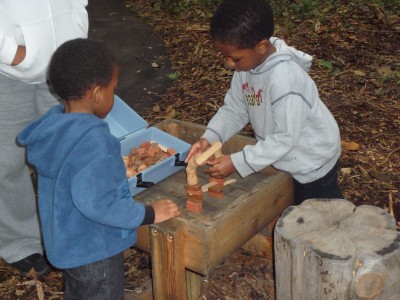 Located in the north St. Louis County, it is surrounded by homes and schools. Over 11,000 students learn and grow at Little Creek throughout the year. A few years ago, we knew we wanted smaller children and parents to have access to nature in a safe and fun way. Through funding from Ferguson-Florissant School District and donations from Stein Estates, we were able to make this dream come true. We built this amazing space and now call it "Discovery Classroom." Being in the woods and under trees helps bring our learning alive. It is a tranquil place for our students to enjoy nature. During our open house events, the Discovery Classroom is a very popular destination.
A unique part of the area is our Log Cabin. It helps anchor the west entrance and provides a special place to reflect. In addition to our pre-school and kindergarten students, it is also utilized by the community. An ensemble from "Strings Attached" also plays their music on the Log Cabin porch.
Little Creek staff help maintain this beautiful classroom. We continue to make it better each year through additions from Boy Scouts and other funds. Parents and children tell us constantly about the beauty and fun that the Discovery Classroom has provided.

Address
2295 Dunn Road
Florissant, MO 63033