The Nature Explore Classroom at
Peggy's Playhouse
I began hearing about outdoor classrooms at the NAFCC conference in Minneapolis. I was intrigued.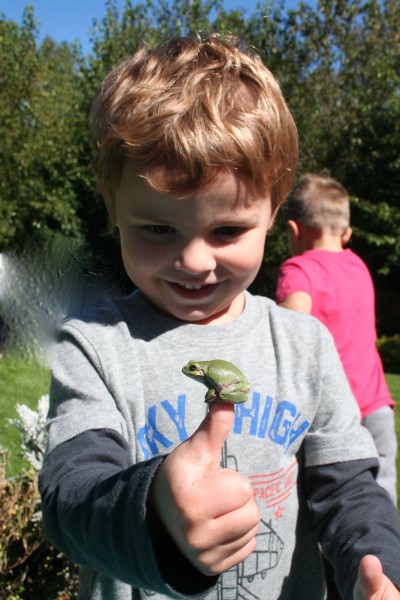 While I'm very lucky to back up to a forest preserve, my backyard was unusable after mid-July due to a large pear tree that dropped thousands of pears and attracted tons of bees! I was also unhappy with the appearance of my backyard with all the bright colored plastic climbers. I wanted to replace most of the plastic with natural materials.
I began to brainstorm ideas to improve my yard. I knew I had to replace my old rotting fence this year so last fall my friend from Michigan brought out her chainsaw to cut down 30+ wild trees that had grown into the fence. This spring I had a new cedar fence installed. My brother-in-law cut down the nuisance pear tree and I used the branches for natural balance beams and building blocks and the trunk for stools. He also rented a sod cutter and was able to take out all the grass necessary for the future "raceway" for wheeled toys and the area to be mulched. He did most of the cement work for the "raceway". We moved dirt to build a hill for a hill-slide. I also bought a 5' fountain that looks like a hollowed-out tree. It became a favorite meditation spot.
We also got busy planting veggies in our new raised beds. We had fun watching our garden grow and then harvesting and eating all our produce later in the summer. I also planted a few new bushes and hundreds of annuals in hanging baskets, pots and in the garden beds.
I would like to thank the state of Illinois for grant money to help me to purchase some high-quality equipment, such as a cascading sand/water table and Nature Explore's chutes and balls and tree cookies. I especially want to thank my best friend from Michigan, Pam Young, her daughter, Stephanie, my husband, Ruben, and my daughter, Tori for giving up their Fourth of July weekend to dig a trench to bring electricity to the fountain, to grade the dirt and to spread out 9 yards of mulch! I also want to thank my sister Sue Anderson and her husband, Mike, for all their help with my project. Even my daycare children "helped" move the dirt around. I never thought a project of this size could be completed in one summer, but with all the help from family and friends, we did it!
When we finished, we invited all the daycare families, past and present for an annual reunion picnic. Now we love going outside to explore as much as we can. We've seen how vegetables grow, learned about running water and watched frogs, salamanders, caterpillars, butterflies, hummingbirds, and even deer.

Address
504 Abbeywood Drive
Cary, IL  60013