The Nature Explore Classroom at
Pollywogs Nature Playschool
Pollywogs Nature Playschool (PNP) operates with a home-based license from the MA Department of Early Education and Care, offering a small unique Play & Nature-Based preschool program on Nantucket Island.  I have been working with and connecting children with nature since 1998. However, it was in the early 2000s after reading Zoe Weil's book Above All Be Kind, that I decided to make nature the focus & curriculum in my program. What started out as a play-based preschool program (Pollywogs Playschool) morphed into a true nature-based and play-based program. Hence, the slight name change.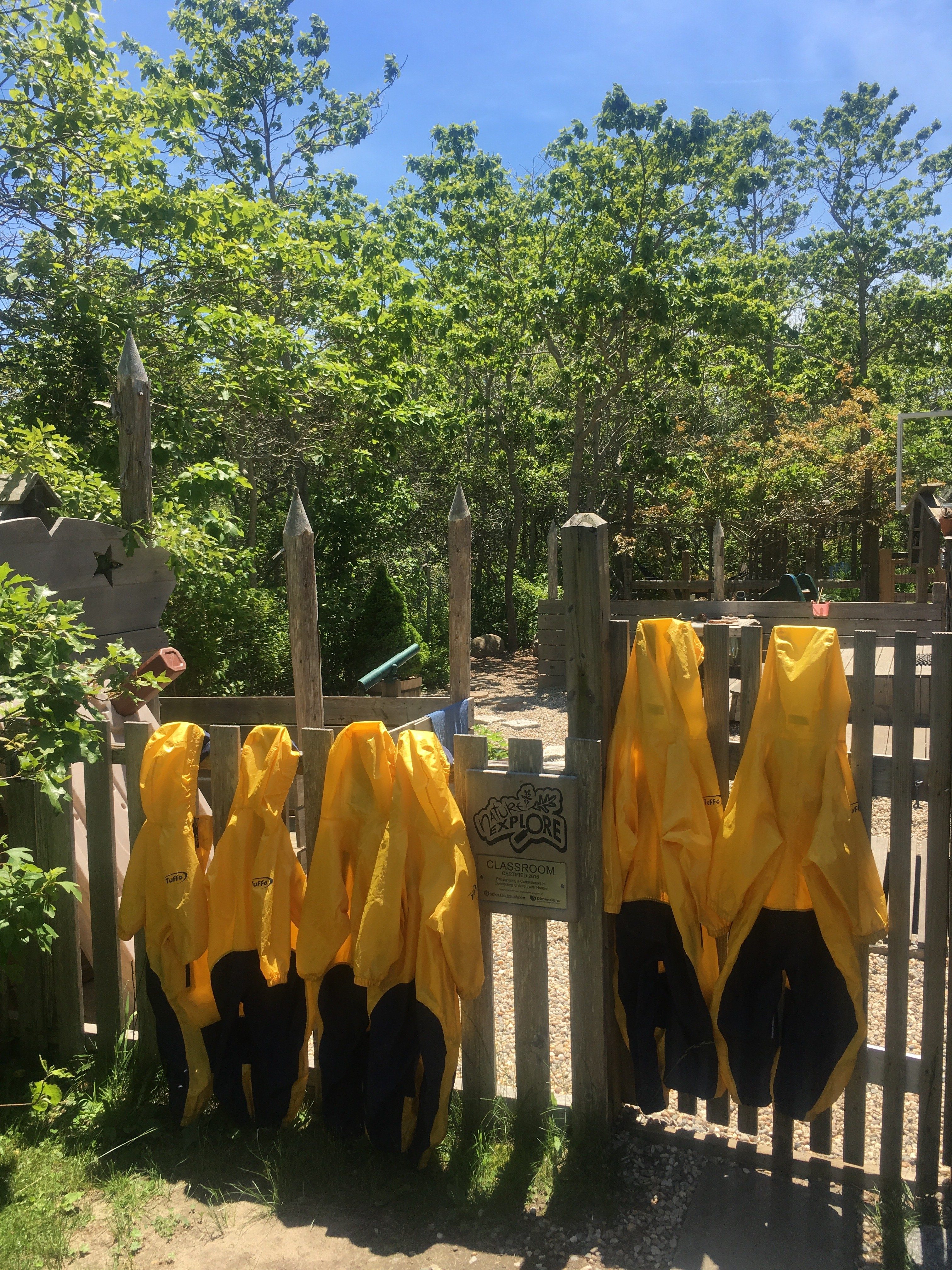 We have always used our amazing Island as a living outdoor classroom. Our Island offers an amazing ecosystem with various habitats that are visited regularly and explored with curiosity, reverence, and awe. We utilize an emergent curriculum where learning evolves organically through the children's outdoor exploration and individual interests. Process-based learning is emphasized with the goal for children to acquire knowledge in a meaningful way, not to reach a prescribed end goal. Unstructured free play is highly valued at PNP however its immense value is not often understood or appreciated by many in our academic driven culture. Using a nature-based pedagogy led me to find the Nature Explore program.
Nature Explore has done the research that validates the importance of time spent in nature as well as unstructured free play in nature and how children benefit from it. In addition, it highlights the importance of children developing a connection to the natural world which can last a lifetime and lead to children becoming stewards of Mother Earth. At PNP, Outdoor Time has always been more than "recess" it is where true learning takes place and the Nature Explore program understands this. We normally spend anywhere from 75 – 100% of our day outdoors immersed in nature in all types of weather where children are provided with an optimal environment for early childhood development. Children learn about nature through direct experience, exploration, and discovery of the world around them. The outdoors offers an abundance of sensory experiences, more diverse gross and fine motor challenges, varied open-ended materials, and endless opportunities for imaginative play, all of which are crucial to all areas of development.
I have been working with the Nature Explore program for the past six years and am thrilled to finally be certifying my outdoor space. The Outdoor Classroom is surrounded by native Sassafras and Scrub Oak Trees and various plants and shrubs such as wild clematis, wild roses, and viburnum to name a few. The Garden Area is an existing Children's garden created by my husband and my own children as a delightful and much-loved Mother's Day gift over ten years ago. In each Area, there are natural loose parts to work with. The children mostly use natural items and imagination as their toys.
I am honored to be the first Certified Outdoor Classroom on Nantucket Island. I hope to inspire other early childhood programs and schools to begin the process.

Address
Nantucket, MA  02584