The Nature Explore Classroom at
Shunk Child Care
I first learned about Nature Explore in 2014. I was at the National Family Child Care Conference and I overheard another provider talking about her certification.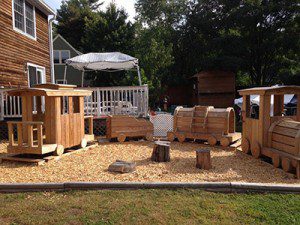 I was intrigued. I decided right then, outdoor classroom certification would be my program's goal for the following year. Our first step was to take the training through the Nature Explore program. That was a wonderful experience. We learned exactly what is meant by a "messy materials" area and how to incorporate nature into our art area. My lead teacher and I started brainstorming about how our classroom would look.
After we created our concept plan, it was time to turn our plan into reality. The families in my program helped by repainting the playhouse, creating signage, cutting tree cookies and tree logs. The children were so excited and dedicated to transforming the space as well. When the wood chips were delivered, they helped shovel and rake them into place under the train climbers.
At the end of the summer, after all our hard work, we held a brunch for all our families. It was wonderful to see the children and parents interacting in all the areas. Some were reading in the gathering area, others dancing in the music and movement area. Thank you to all the families, and my staff who helped make our Outdoor Classroom a reality!
Sasha Shunk, Owner

Address
70 Frost Street
Portland, ME  04102