The Nature Explore Classroom at
Tulsa Nature Explore
Look deep into nature and there you will understand everything better.Albert Einstein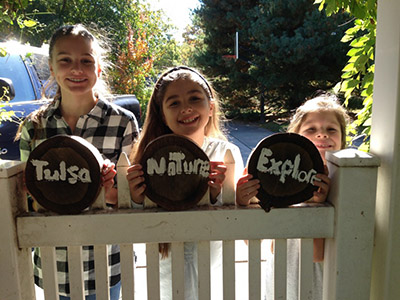 Sitting on an acreage of trees, shrubs, flowers, and native plants, this outdoor classroom has lots to offer children to lure them away from today's media world. There is abundant room to run and play while learning about nature. Take a walk in the secret garden to the koi fish pond; taste the fresh honey from the comb; count the chickens' eggs; see what's growing in the greenhouse, or just spend some quiet time observing nature.
"Nature gives to every time and season, some beauty of its own" – Charles Dickens
Besides being an official Waystation for monarchs, this site is certified by Oklahoma Wildscapes and the National Wildlife Federation, offering the four basic habitat elements needed for wildlife to thrive: food, water, cover, and places to raise young.
"There is something in the marvelous in all things nature" – Aristotle
Children learn best and remember when they participate. Incorporating the five senses of seeing, hearing, smelling, tasting, and touching, is a primary goal of this outdoor classroom.
"We can never have enough of nature" – Henry David Thoreau
Whether it's feeling the white fluffy cotton from the plant, or peeling away a loofa gourd, to smelling the wonderful aroma of herbs, children take away a sense of wonderment and appreciation of the world around them. Nurture Nature!
Laurie Ross, Teacher, Owner


see most recent
Address
5219 E. 105th St.
Tulsa, OK 74137